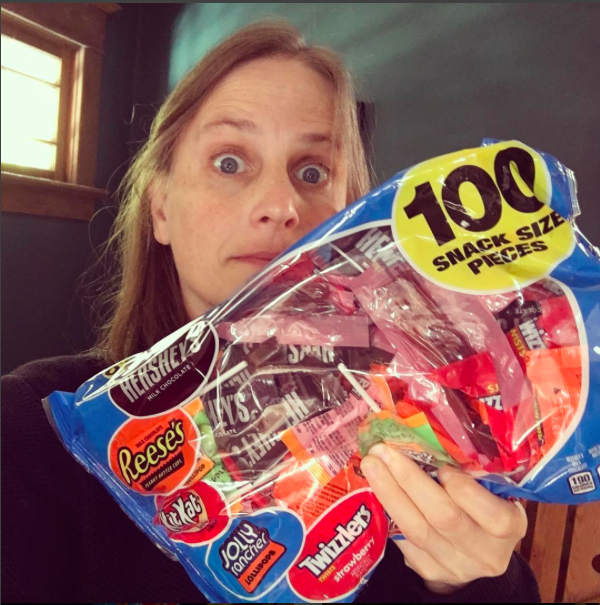 I made sure to buy my Halloween candy over the weekend when Fred Meyer (Kroger) ran a special e-coupon where all candy was 50%-off with a $10 purchase. I stacked this deal with coupons and ended up spending just $13.48 on a mountain of candy. (There's enough that I'll likely return a couple of unopened bags after Halloween.) However, my not so secret money saving hack is that I annually store our candy with the next door neighbors so we're not tempted to snack on it. (Step one is admitting you have a problem.)

I sold some Jonathan Adler bookends through eBay, I sold a vintage suitcase and board game through Craigslist, I listed a couple of newly thrifted items on eBay and then I renewed all my random online listings. I also attended a paid four hour meeting at work.

We celebrated my mother's 75th birthday on Saturday, which was marked by a luxurious restaurant meal courtesy of my stepfather. Instead of a physical gift, I'll be treating my mother to a birthday day of adventures to create memories instead of clutter.

My son was too sick to attend a soccer game, so my husband sold his ticket for $27, I bought a new tea kettle at the Goodwill Outlet as our old one had a broken whistle, and then I listed our old one in my buy nothing group, I then gave away a sleeve of disposable cups through the same buy nothing group, I arranged a USPS porch pickup to avoid a post office errand and I'm wearing the same thrifted sweater and jeans that's pretty much my dull mom uniform. Whether you call it the elevated term of "capsule wardrobe" or simply just own hardly any clothing, it's still a frugal choice. (By the way, I do not have a "capsule wardrobe," I simply have zero interest in fashion.)

I didn't buy a Lear Jet or a vulgar gold-plated apartment in the sky.
Now your turn. What frugal things have you been up to?
Katy Wolk-Stanley
"Use it up, wear it out, make it do or do without."