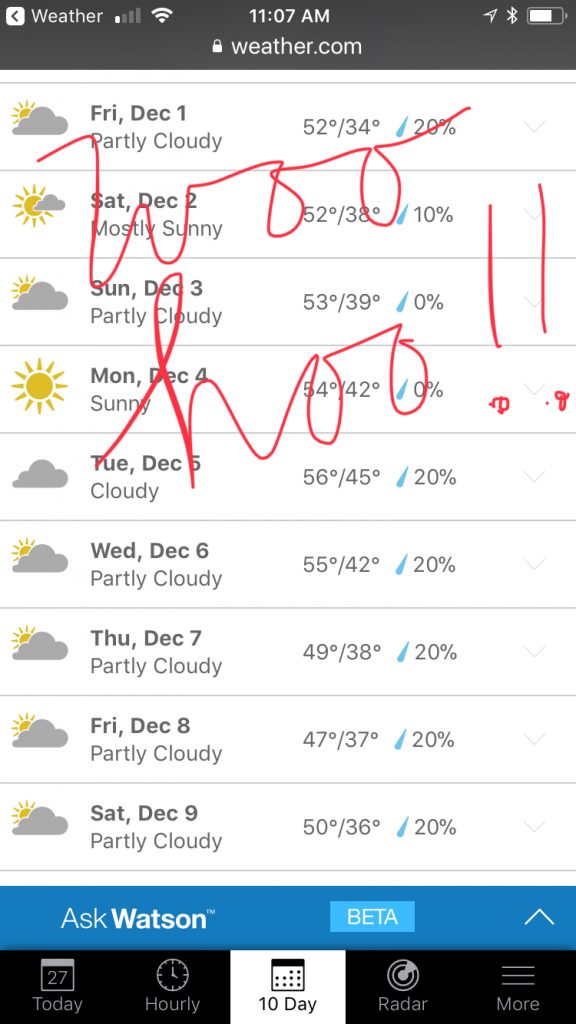 Yesterday was the last day of my sons being home from college, and I wanted to put together a nice brunch for them. I walked to the grocery store to buy bacon, but otherwise assembled everything from grocery staples on hand. I baked up a small blueberry coffeecake, which used up the last of some streusel topping that had been sitting in my freezer for ages, (I'd made too much for a different recipe) and then scrambled up some eggs. The smell of bacon and coffeecake pried them from their beds and I was even able to send my older son off with leftovers for his long drive back to school. The coffee cake was deliberately small, as I didn't want unhealthy leftovers after days of Thanksgiving gluttony. Urp . . . . 

I sold some thrifted Christmas stripe Hanna Andersson pajama bottoms on eBay and packaged them up in a padded envelope that my husband had just received in the mail. Actually, I used half of the padded envelope, as it was pretty big and I figured I could get double usage from it. My next door neighbor let me know that she had a stack of used envelopes for me. Hooray for reuse and free shipping supplies!

I'm starting to get organized for my week in NYC. It's tempting to use this as an excuse to buy new stuff, but instead I'm figuring out how to make use from what I already own. Living in Portland, Oregon I don't own a winter coat that can handle New York style low temperatures. However, it looks like the next week is forecasted to be in the 50's, which is well within my outerwear's limitations. I probably should own a serious winter coat, but I'd prefer to find one for just a couple of dollars, which requires some platinum level patience. (Heck, I've been very impressed with the Goodwill near my sister's grocery store, so maybe I'll luck out there.) Either way, I'm not falling prey to the mindset that travel should trigger a bunch of new purchases. And souvenirs to bring home? Those'll be chocolate covered cannoli from one of the many Italian bakeries in the Bronx. (The chocolate covered ones don't get soggy so quickly.)

I'm not spending the day scouring the internet for super ah-mazing Cyber Monday deals. Everyone on my gift list already owns more than their fair share, and want or need for zero additional items in their homes. It doesn't matter if a $300 item has been marked down to $100, it's still $100 that you no longer possess. Don't go broke in the name of saving money.

I didn't buy a Lear Jet or a vulgar gold-plated apartment in the sky.
Now your turn. What frugal things have you been up to?
Katy Wolk-Stanley
"Use it up, wear it out, make it do or do without."