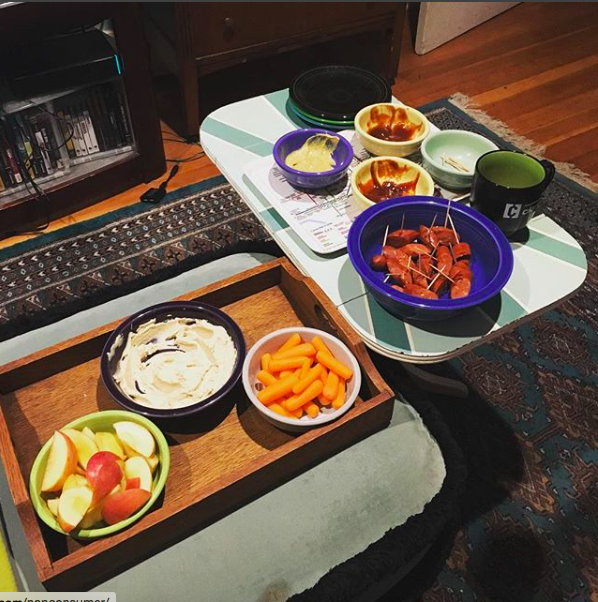 My son and I spent the afternoon hitting up a couple of nearby Goodwills. He bought a green sweater and pink dress shirt as he's been wanting to put together a "Ned Flanders outfit," and I bought a number of miscellaneous items including:

– A pair of brand new Smart Wool work socks for my husband.

– A set of brand new Tommy Hilfiger flannel sheets for my soon to visit nephew. (We're low on extra twin sheets, since both my kids took sets to school with them.)

– A pair of Ferragamo pumps to sell.

– A Thule bike rack, which I'll sell at an local store.

I told my son "we have food at home" when he wanted to drive through Popeye's (his favorite) while we were out and about. My id desperately wanted to splurge on a treat for him, but my ego was hyperaware of the looming April 1st double tuition deadline. Instead we came home and I sautéed a mess of onions, peppers and mushrooms to create a huge omelette for my husband and son to share. And since the peppers and mushrooms were from the Grocery Outlet clearance shelf, it was a truly frugal meal which ended up winning rave reviews.

The Portland Timbers soccer team played yet another away game, as their stadium is being upgraded. I decided to make the at home game is little more fun than usual, so I put together a snacky feast, which I normally only do for the Super Bowl. My plan had been somewhat elaborate, but I slept in and didn't have time to grocery shop. Instead I served cut apples, carrots, hummus and sausage bits on toothpicks. (Everything's more fun on a toothpick!) I then set out bowls of dipping sauces for the sausage pieces, which was a huge hit. My husband's friend was a last minute addition to the fun and there was plenty of food to go around. And the best part was that the sausages were 99¢ per six-pack from (you guessed it) the Grocery Outlet!

My husband signed up for a free 30-day trial of CBS All Access so we can binge watch Star Trek Discovery while he's on medical leave, I've been reading a library copy of Goodbye, Things: The New Japanese Minimalism, I'm wearing a 100% thrifted outfit today, (including socks and underwear!) I found two pennies on the ground as well as a cute purple pony tail holder, I saved the plastic bags that the aforementioned clearance shelf veggies came in for my friend to use as dog poop bags and I potted up some spider plant babies which I'd pinched off a plant at my father's house.

I didn't buy a Lear Jet or a vulgar gold-plated apartment in the sky.
Now your turn. What frugal things have you been up to?
Katy Wolk-Stanley    
"Use it up, wear it out, make it do or do without."