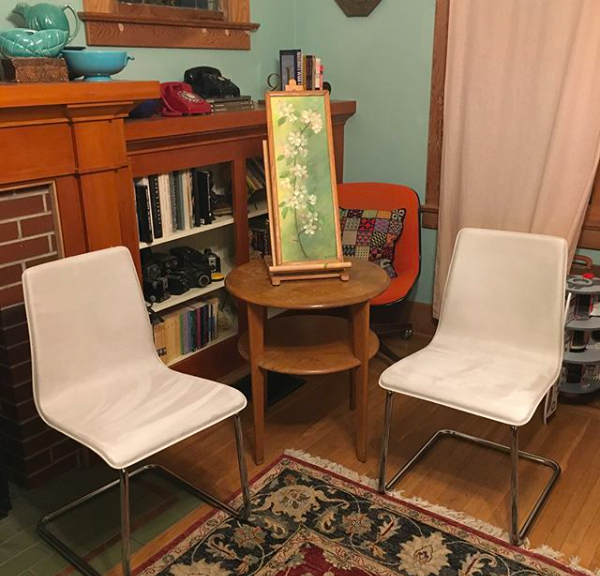 My husband really needed a haircut, yet wanted something beyond the normal buzz cut that I'm able to provide. He'd snuck out to a dude salon a month or so ago which ended up being both expensive and a dreadful haircut. I called up the Free Haircuts Portland, Oregon people who do the continuing education for Supercuts and they were able to book him an appointment that afternoon. My husband was pretty nervous about being the guinea pig in yet another of my frugal schemes, but I assured him that I'd been there before and had received a great cut. In the end my husband received an amazing haircut, which we both agree is the best cut he's had in years, possibly decades.

This may seem like a Portland specific frugal tip, but Supercuts is a national chain, which means that your area should have a similar opportunity for free haircuts. Just call your local Supercuts and ask!

We stopped at Goodwill on the way home from Supercuts-ish where we both scored a single great item. For my husband it was a fancy fold-up soccer goal for $40 that normally costs $150, and for me it was a $7.99 vintage wrought iron plant stand that perfectly fits a cute McCoy planter that I already own.

I'm taking the next two weeks off from work at the hospital so I can enjoy my kids being home from college and then my sister visiting with her kids from New York. I won't receive any pay, but March was an extra paycheck month, so it'll kind of even out. The next double tuition payment (approximately $8400) is due April 1st, so I'm keeping a tight eye on our bank balances. (Who am I kidding, I always keep a tight eye on our bank accounts!) I know that there will be a lot of eating out and entertainment expenses during my sister's visit, so I'm locking down the budget in anticipation of these vague extra expenditures. How does this play out in real life? Tonight's dinner will be a "burrito bar" which means that I threw approximately 30¢ of Dollar Tree pinto beans into the crockpot and last night's dinner was homemade pizza with carmelized onions and sketchy freezer pepperoni as toppings.

I sold my curbside dining chairs that I'd hauled home and scrubbed to perfection, I sold a huge lot of brand new thrifted shoelaces on eBay that I think I'd had listed since last summer, I brought my own food to work even though the meals were a bit hodgepodge and I'm going to be able to put out free extra yard debris (I've been pruning our hydrangeas) while my neighbors are on vacation for spring break.

I didn't buy a Lear Jet or a vulgar gold-plated apartment in the sky.
Now your turn. What frugal things have you been up to?
Katy Wolk-Stanley    
"Use it up, wear it out, make it do or do without."