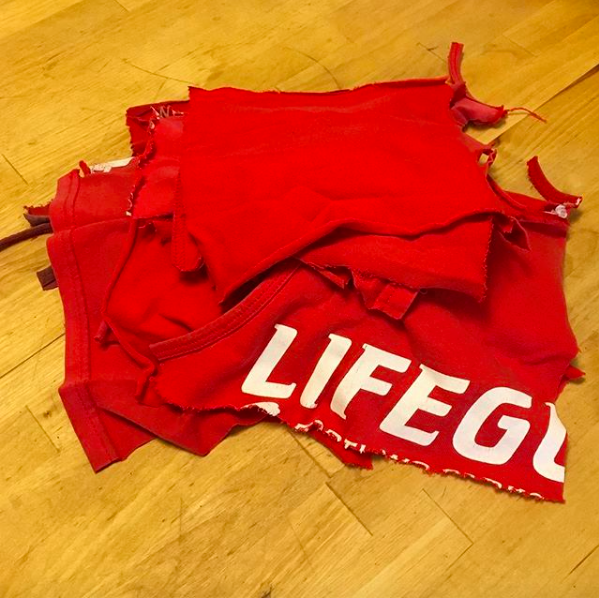 I cut my son's lifeguarding tank tops into rags. Although my son worked for seven years as a lifeguard, he'll be moving on and these tanks would otherwise take up space in his already cluttered room. It's against regulation to wear them outside of work, and were so faded and sweat bleached that I doubt Goodwill would even put them out on the floor. I stopped buying paper towels a very long time ago, so these will function to clean up spills, shine windows and for other times that I would have mindlessly torn off a square from a roll of paper towels. I do my best to minimize how much garbage my family produces. (As an aside, my son could have taken new shirts and swim trunks each year, but instead he chose to continue using the same ones he'd been assigned the first year he was hired.)

I listed a "Get Well Soon" helium balloon on my local Buy Nothing group. (My husband received the balloon from one of his employees last week before his hip surgery.) It was still tight and floaty, so I was able to find someone whose friend just broke a leg. Now this otherwise useless item can go cheer up a new person and I won't have to throw it into the garbage.

My husband and I designated yesterday as a "TCB" day. (Taking care of bidness!) I wrote out a tremendous list of finicky chores that needed my attention and my husband went through piles and piles (and piles) of papers that needed to either be shredded or filed. Not only did he locate some continuing education paperwork that will save me having to repeat two different classes, but he come across a notice from the DMV notifying us that we need to take one of our cars through DEQ and reregister the vehicle. (We are lucky that neither of us got pulled over for this infraction.) I'll drive the car through DEQ this morning and am looking forward to presenting my paperwork at the hospital tomorrow.

What got crossed off my to-do list?

– I washed the curtains in our spare bedroom and then rehung them. (The cats like to sit behind these curtains, which results in them being caked with nasty cat hair.)

– I listed two items on Facebook Marketplace.

– I transplanted and tidied up all the straggly flowerpots on the front porch.

– I pruned back a volunteer butterfly bush in the front yard.

– I pruned our hydrangeas in the back yard. (Although this chore will require many more hours to complete.)

– I scooped and cleaned up around our litter boxes.

– I walked to the grocery store.

– I made dinner with enough leftovers for this week's work lunches.

– I wrote out and mailed a check for a miscellaneous fee to my son's landlord.

– I took three empty Costco cat food bags and separated the layers so they could be recycled.

– I replaced the battery in one clock and switched another to daylight savings time.

– I did two loads of laundry and even put everything away.

– I glued the small ceramic "hot" button back onto the bathroom faucet handle. It was so tiny, and I was worried that it would get lost before I had a chance to complete this task.

– I did all my hand washing and hung everything to dry.

– I had a couple of uncompleted tasks on my to-do list, but my energy petered out by the evening. But that okay, as I can clean out the fridge and organize my eBay inventory later on today.

I accepted a free frosted cookie at the grocery store which I then presented to my paper-sorting husband, I listened to a free Levar Burtion Reads podcast while working in the garden, I connected one co-worker who was giving away a number "3" cake pan with another co-worker whose son was turning three and I helped myself to some free packaging supplies while visiting my husband's workplace.

I didn't buy a Lear Jet or a vulgar gold-plated apartment in the sky.
Now your turn. What frugal things have you been up to?
Katy Wolk-Stanley    
"Use it up, wear it out, make it do or do without."