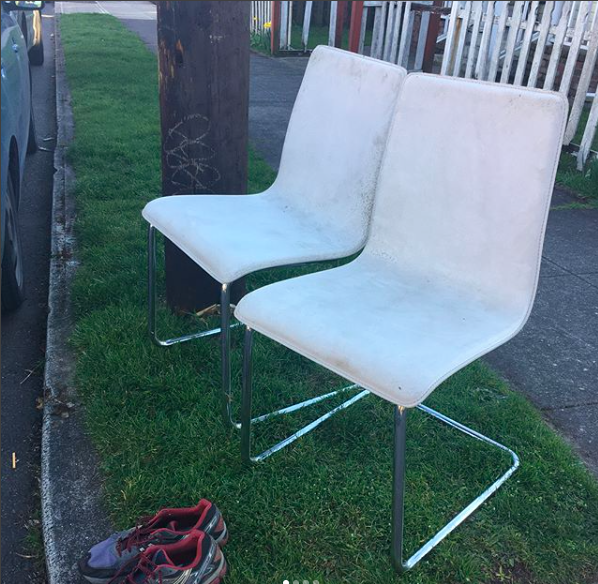 I worked the last couple of days and brought my own food both days even though there was nothing that exciting in the refrigerator. Black beans with carmelized onions and hot sauce paired with tortillas make a delicious lunch that stays well within budget while keeping me stoked during my 12-1/2 hour hospital shifts. Add in a couple pieces of fruit, some hard boiled eggs and too much coffee and I'm a happy (and sated) non-consumer.

I was careful to cut open plastic food bags from the top so they could be reused for dog poop. Although I don't have a dog, (see the aforementioned 12-1/2 hour shifts) my friend Lise does, and she's always happy to give my plastic bags a second life.

I took advantage of yesterday's unseasonably warm weather to pull out my second-hand Bissell rug shampooer and freshen up my garbage picked porch rug. Not only was it grubby, but it featured a mysterious stain that may or may not have come from a neighborhood cat. I'd been eagerly waiting for the convergence of warm weather plus free time to cross this task from my to-do list. The rug now looks crisply clean again, and was the perfect outdoor activity for this indoorsy gal.

I sold a small thrifted table through Facebook Marketplace that I'd relisted at least four times. It was a piece that I would've been happy to keep as it had a small footprint and was cute as a button, but in the end I'd rather have the money. I'm sure to come across something similar soon enough, and the next double tuition payment is looming large. I also happened upon a free pair of mildly mildewed chairs that should clean up quite nicely for resale. (Seriously, there's almost nothing that I haven't been able to rejuvenate with my rug shampooer!)

I didn't buy a Lear Jet or a vulgar gold-plated apartment in the sky.
Now your turn. What frugal things have you been up to?
Katy Wolk-Stanley    
"Use it up, wear it out, make it do or do without."