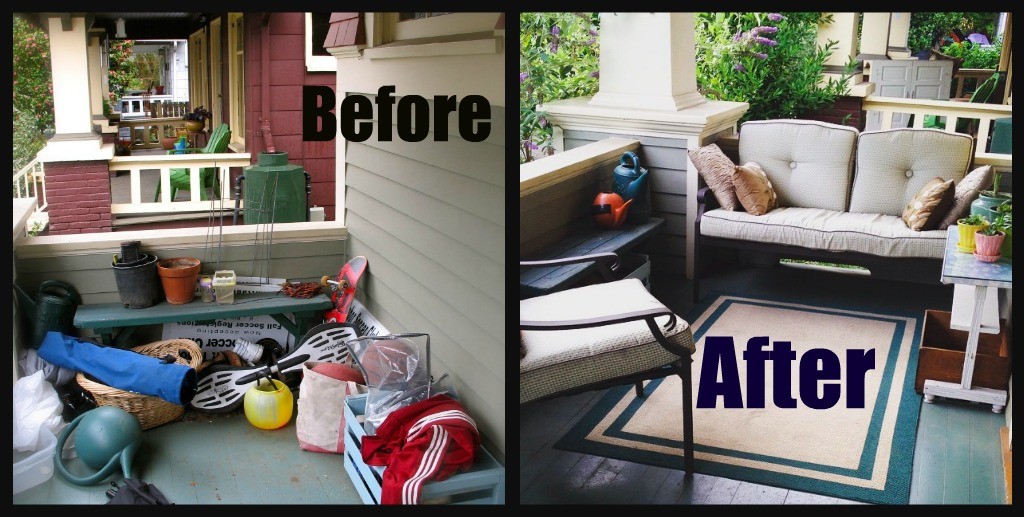 If you like a good before-and-after, then today's your day! Why? Because this is the before of my front porch. Yes, it's from a few years ago, but it's cluttered and unattractive enough to make the inevitable after nice and dramatic.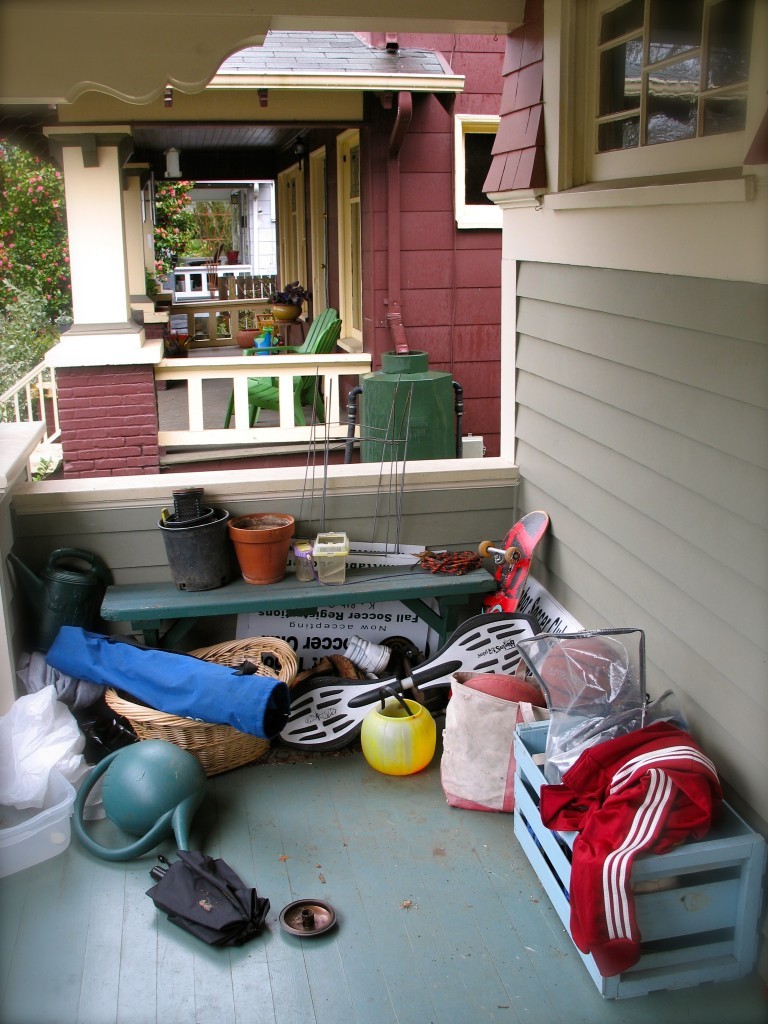 Actually, it's the before that came with this after, when I scored a Goodwill outdoor couch and chair for a budget friendly $40. Also it's from a few years ago. (Three years ago, to be exact.)
I want you to notice the "rug" in front of the couch. It's a $1 carpet sample that I picked up at a garage sale. The proportion is hilariously off.
Here's another view, from before I fixed up this great table using a $2 piece of Goodwill fabric.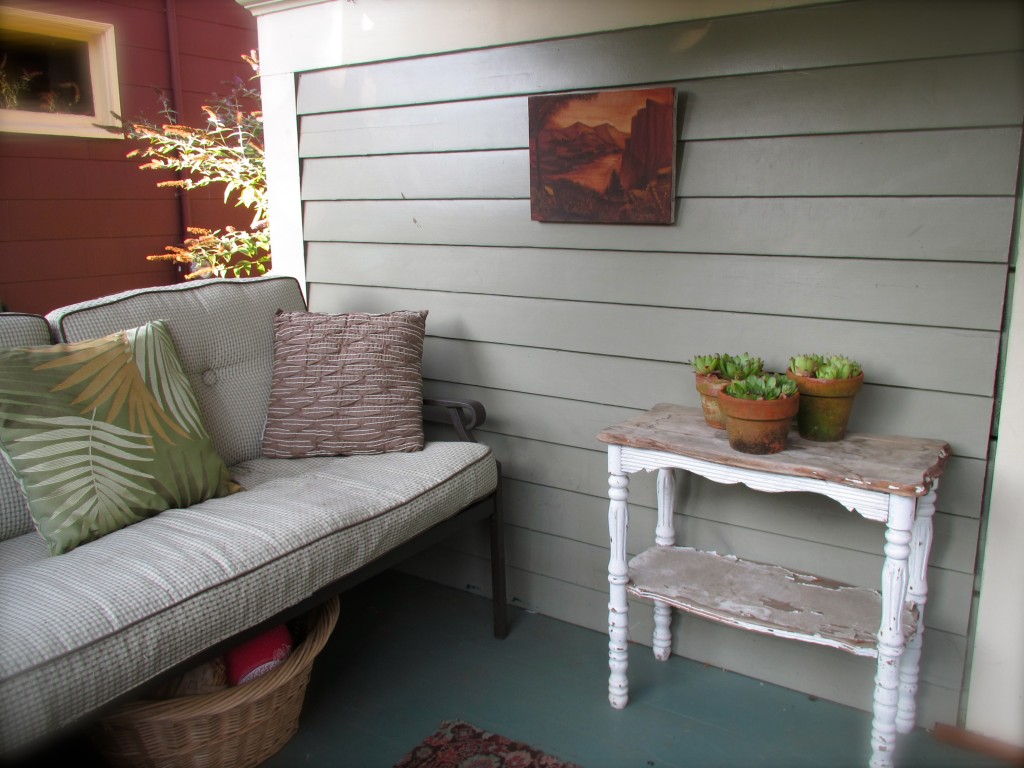 But I came across a rolled up rug that someone had set out for free a few weeks ago. Nothing special, just an industrial nap with a decidedly non-natural fiber. But it was free, so what did I care? It was slightly grubby, so I hauled out my Bissell rug shampooer and freshened it up. My initial plan was to tape off an elaborate Greek key pattern for a border, and even went to far as to graph it out. But then I came to my senses. A dozen hours of snipping precise pieces of tape might drain my already waning sanity.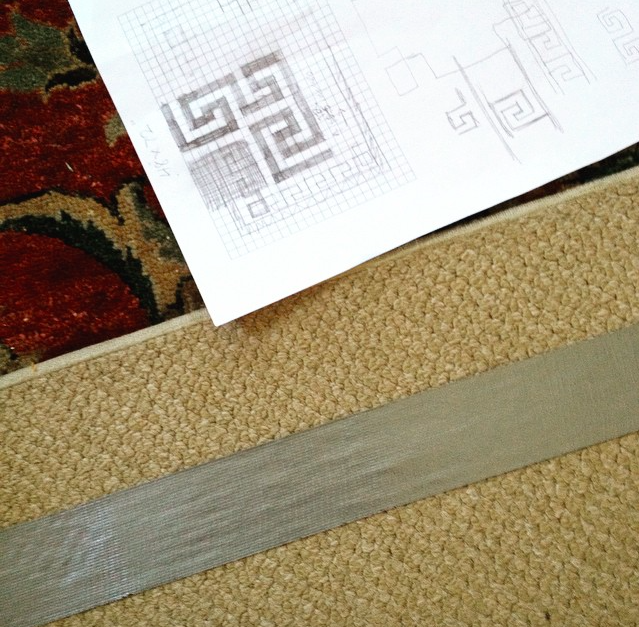 So I taped off two concentric rectangles, which was much more within my mathematical skill set. At this point you may be noticing that I'm using duct tape instead of precious blue low-tac tape. Why? Because that tape is designed for use on delicate painted walls, and this is a seriously indestructible rug. Plus, I had a roll of oddly warped duct tape that I pulled from a free box a few years ago.
I didn't want to spend any money on this project.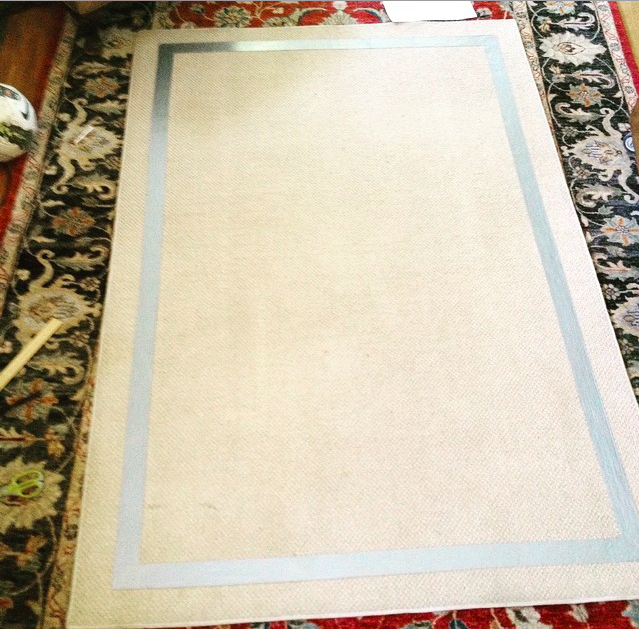 I went and shopped my basement, and chose a no-VOC forest green paint that was leftover from painting our entryway. It probably would've been faster to use a small paint roller, but I couldn't find a paint tray, so I used a regular paintbrush. It took more paint than I anticipated, as the rug really soaked up the paint, but the gallon was almost full so this was not a problem.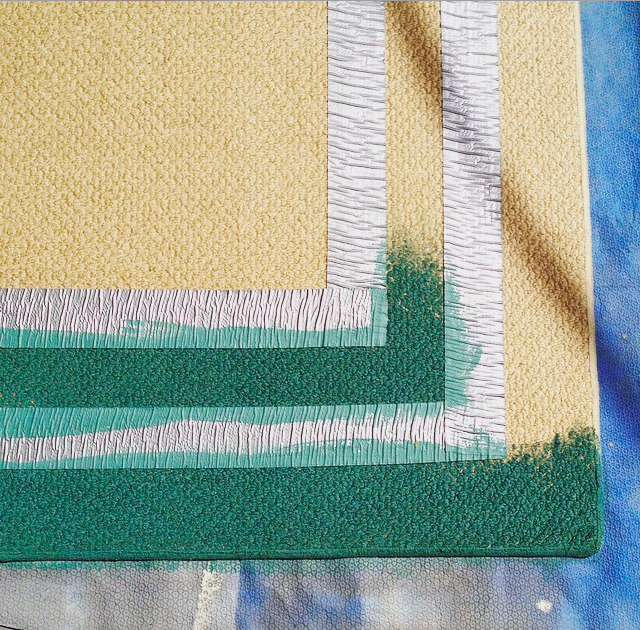 In all, the project took probably took an hour-and-a-half, including trips to the kitchen to refill my ice tea glass.
And here's the finished product! Simple, yet elegant. I actually think that the Greek key design would have looked overwrought and fussy in this small space.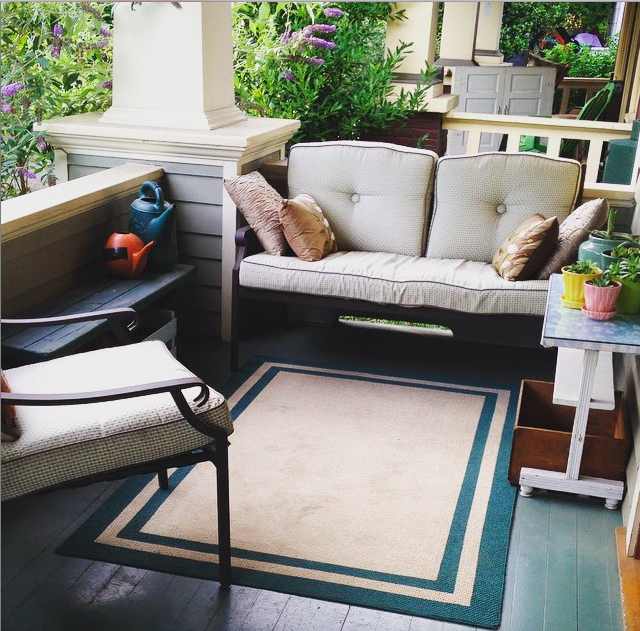 Here's another view of the porch, which shows how my free-pile "Swift" crate fits perfectly under the table.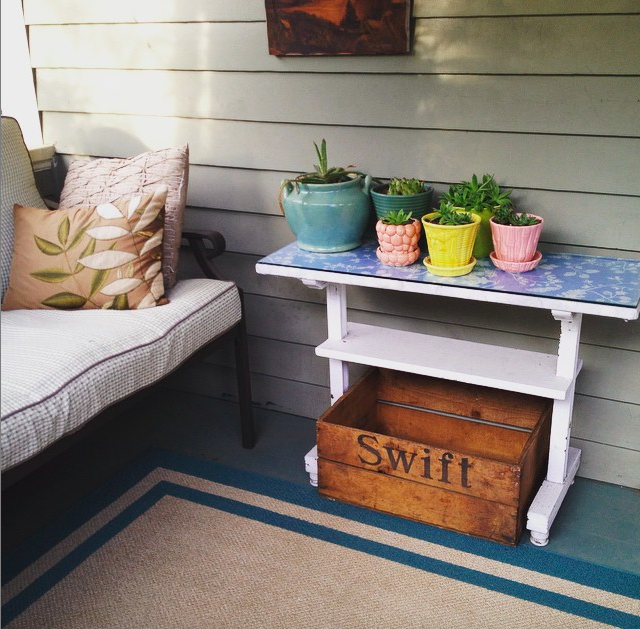 The only things I paid for in this seating area are the couch and matching chair. $40 total. This is once again a situation where having a limited budget, or frankly no budget is not so much a barrier as it is a benefit. It exercises my creative mindset to create the look I want. And it keeps otherwise under-appreciated items out of the landfill.
And now, I'm off to enjoy a lovely cup of tea on the porch.
Katy Wolk-Stanley
"Use it up, wear it out, make it do or do without."