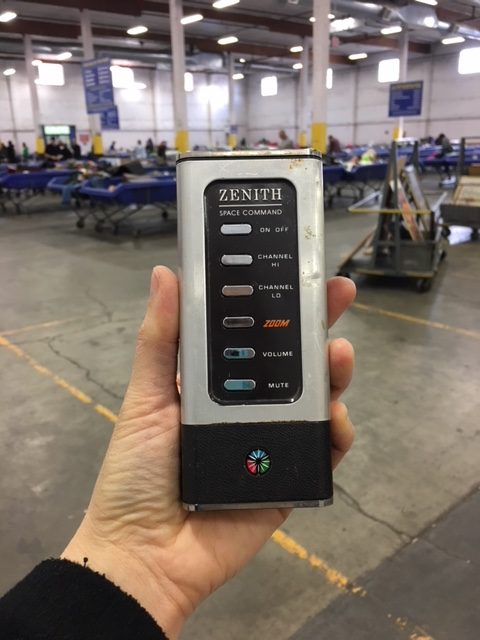 My 52-year-old husband planned a snowboarding day trip up to Mt. Hood with his work buddies. Skiing and snowboarding are expensive hobbies, but my guy kept it on budget. He pre-purchased a discount lift ticket, packed sandwiches and water from home, made do with some scrappy 99¢ thrifted snow pants, borrowed goggles, carpooled with someone who owns a 4-wheel drive and most importantly he avoided a visit to an emergency room, which I say is the biggest savings of all!

I spent a few hours thrifting at the Goodwill Outlet with my friend Sarah, who if possible likes Goodwill more than I do.

I bought:

– A lambswool sweater and souvenir British tea towel for my father.
– A lovely Metropolitan Museum of Art silk necktie for my husband.
– A kilim pillow sham.
– A groovy Zenith "Space Command" remote control.
– A pair of leggings for myself.
– A pair of sunglasses.
– A pair of jeans for my mother.
– An antique brownie camera.
– Two brand new paint pens.
– A Game of Thrones T-shirt to sell to the nearby Buffalo Exchange consignment shop. (I bring stuff in throughout the year so I'll have gift cards for my kids come December.)

I scored a 99¢ bag of tangerines from The Grocery Outlet, and my husband and I actually ate every single one of them for a zero waste win! (My experience is that tangerines can quickly get dried out and unpalatable.)

I watched a couple episodes of Orphan Black from a library DVD, I cooked up a slow cooker batch of black beans for burritos, I filled the Prius up with cheap Costco gasoline, I walked to the grocery store, I'm wearing a thrifted shirt, sweater, jeans, underwear and socks (sorry, the bra was bought new) and I strolled through a Whole Foods simply to enjoy the samples.

I didn't buy a Lear Jet or a vulgar gold-plated apartment in the sky.
Now your turn. What frugal things have you been up to?
Katy Wolk-Stanley    
"Use it up, wear it out, make it do or do without."