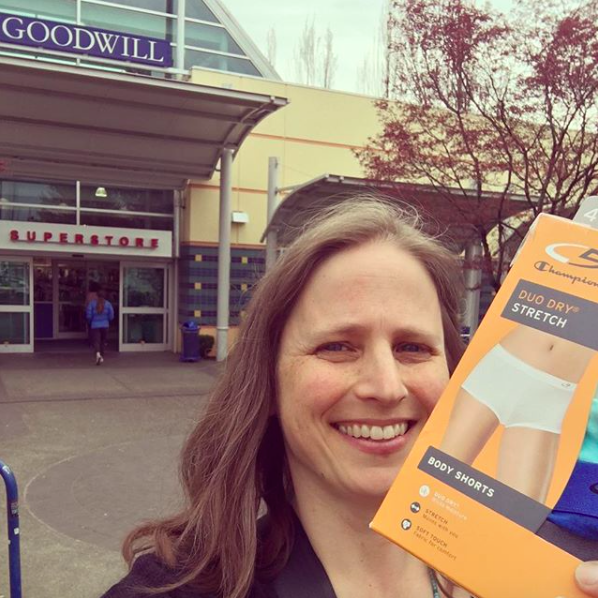 My sister and her kids are in town for their spring break, which overlaps a couple of days with my kids' spring break. This means we're a large group of people which can get expensive pretty quickly. However, our mother was generous and treated everyone to lunch yesterday, so I offered to host everyone for last night's dinner. At first I drew a blank for the meal, but then I realized that the black beans which had been simmering in the crock pot all day could transform into the basis for a "burrito bar" meal. (This was an especially good idea since we have a couple of vegetarians in the family.) I was tempted to run to the grocery store to fill in some holes, but instead I made do with the groceries I already had on hand.

I cooked up a mess of carmelized onions and then sautéed three-for-a-dollar red peppers I'd previously grabbed from a clearance bin. I grated cheese, chopped lettuce, sliced avocado, threw rice into the rice cooker, assembled tortillas from the fridge and freezer and gathered various salsas and hot sauces from the fridge. In the end we fed eleven people quite nicely and there were no complaints from the guests or my wallet.

We made our final double payment for our kids' university tuition. Our oldest graduates at the end of spring term, (although there are two classes to be taken this summer through Portland Community College.) Our youngest is finishing his sophomore year, so we'll have two more years of tuition and living expenses for him, but after the two years of both kids in college at the same time, this should be a financial breeze! It's been a lean few years coupled with maximizing all income opportunities, and I look forward to seeing fatter bank accounts, as well as starting back up on paying extra towards our mortgage.

I loaded everyone into the minivan for a Goodwill trip and bought nothing more than a package of underwear for myself. I do have underwear as an exception on my buy-nothing-new list, but thrift stores often have new underwear whose only flaw is that they're in messed up packaging or are missing a pair. And since this four-pack was $3.99 instead of the $19.99 they'd normally cost, this was a no brainer. Buying from thrift shops not only stems the tide of insane over manufacture of consumer goods, but it keeps my family on budget.

"Debt free living in thrift store underwear" might have to become the new tagline for The Non-Consumer Advocate!

I turned down the brightness on my cell phone, my husband and I finished watching the first season of Star Trek: Discovery using a 30-day free trial of CBS All Access, (so good I might need to rewatch the series to catch the nuance I missed the first time around!) I renewed all my library books, I signed up for another month of hospital shifts, I'm arranging the sale of a groovy macrame wall hanging that I picked up at Goodwill, I had water at lunch even though my mom was paying, I cut flowers from the garden to cheer up the home, I filled out a short application for an hour long panel that would pay $125 and I brought home a pretty chair that a neighbor had put out for free.

I didn't buy a Lear Jet or a vulgar gold-plated apartment in the sky.
Now your turn. What frugal things have you been up to?
Katy Wolk-Stanley    
"Debt free living in thrift store underwear."
"Use it up, wear it out, make it do or do without."