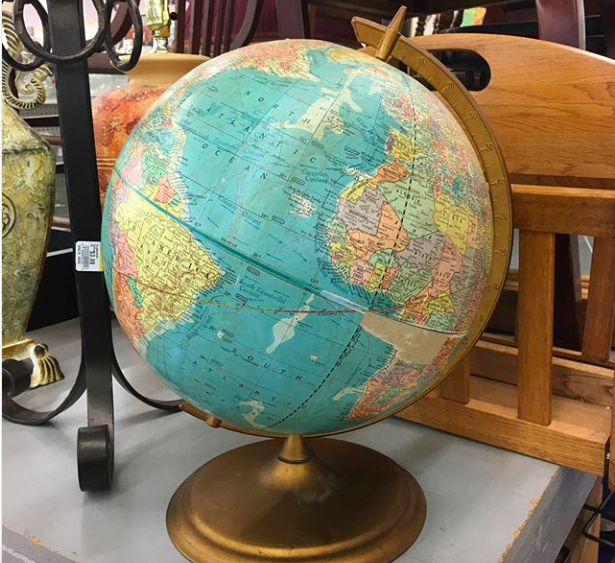 Yesterday was the sad last day of my kids' spring break, so we drove our youngest back to his apartment and bought a Greyhound ticket for our oldest. Thinking we were being clever, we bought the ticket to originate from Eugene instead of Portland as it saved us $42. However, it turned out that the bus had broken down outside Eugene and the timeline was vague at best and featured the line "we're hoping to get a mechanic up there within two to three hours." We bit the bullet and offered to drive the extra three hours to get our oldest all the way back as there was the pressing issue of Monday morning classes. Unfortunately, I had convinced my sister and her son to accompany us on our short road trip with promises of fun thrifting/hanging out on campus.
So yes, my sister got to luxuriate in an extra six (six!) hours of driving in addition to the four she signed on for. (My nephew hung out in Eugene with his cousin, and we swung by to pick him up around midnight.) And though the town of Ashland is nestled beneath a beautiful mountain and the main street is filled with adorable shops and delicious restaurants, it was too late to enjoy the amenities and definitely too dark to appreciate any scenery.
How does this remotely fit within the category of a "frugal thing?"
I was able to get a refund on the bus ticket, as well as the $70 I spent on a bus ticket last week after my college senior decided to accept a late minute ride. Even though I'd been told that a refund wasn't possible.

We had approximately ten minutes in a Eugene thrift shop before I received the phone call about the broken down Greyhound bus. And in that ten minutes I scored a groovy vintage globe for the perfectly acceptable price of $4.99.

We ate a late heavy lunch and didn't have an appetite for dinner. We did run into the grocery store for snacks, but kept them simple with fruit, carrots, beef jerky and Chex mix. However, we all seem to have what's now known as a "Chex mix hangover." So! Much! Salt!

Yesterday was Easter, and although I'm Jewish, the Easter bunny still visits my house. I was able to buy all the treats for my kids and their cousins using Goodwill gift cards I had in my wallet. (Before you get too grossed out, our Goodwills have a big ol' shelf of brand new candy and treats at the register as impulse items.)

We didn't charter a Lear Jet, although I was sorely tempted.
Now your turn. What frugal things have you been up to?
Katy Wolk-Stanley    
"Use it up, wear it out, make it do or do without."