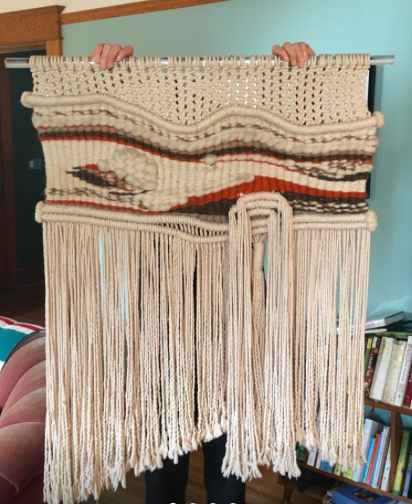 I sold a large macrame wall hanging through Facebook Marketplace that I'd picked up at Goodwill. I immediately put the money into the credit union, as there's reason to have cash sitting around the house tempting me with its anonymous allure. (I like the trackability of using my debit card, as I can follow exactly where my money is going.)

I picked up a groovy vintage suitcase with an eye to upcycing it into a side table. I already have a big bag of vintage brass-tipped tapered legs, and had been looking for the perfect suitcase. The inside features a strong mildew odor, so I cleaned it with antimicrobial wipes and then treated it to a generous spritzing of vodka. I've read that vodka is an excellent solution for musty suitcases, so I figured I'd give it a try. (We already had a leftover bottle in the freezer.) I'll do a full post in the future and let you know if this trick actually removed any stank. I've also read that leaving a container of cat litter in a closed suitcase helps to absorb the smell, so I'll try that as my next step. (I assume they mean fresh new cat litter. 😂🐈)

I gave away five bags of unopened Easter candy to someone in my Buy Nothing Group. This woman is always happy to receive candy as she's a middle school counselor and makes it available to her students who are having crappy days. Which, as I recall, are most days in middle school. (I'd previously given her our unopened Halloween candy.)

I then accepted a pair of iPhone earbuds from someone else in my Buy Nothing Group, which was perfect timing, as my functional earbuds seem to have been lifted by a certain sticky fingered college student. I like to listen to podcasts while puttering around the house, yet have $0.00 budgeted for anything unnecessary at the moment as we just paid for spring tuition, April rents plus looming taxes. When it rains it . . . holy hell, is that a monsoon?!

My sister and her kids have been visiting from New York this week, which in the past has been an expensive endeavor as it entails frequent restaurant meals and bonus touristy activities. However, we're both budget motivated at the moment, so our excursions have been simple and in the black. Eating meals at home might seem dull, but we're all in it for the company we keep, not the strangers we impress.

I didn't buy a Lear Jet or a vulgar gold-plated apartment in the sky.
Now your turn. What frugal things have you been up to?
Katy Wolk-Stanley    
"Use it up, wear it out, make it do or do without."