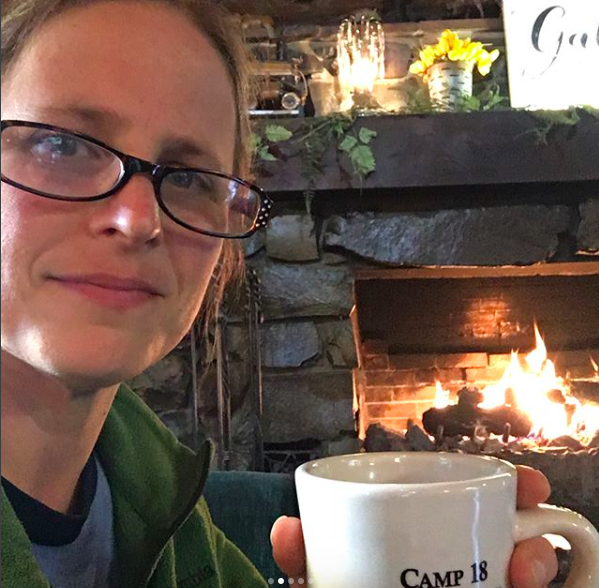 My husband and I went out after dinner for coffees and a shared dessert. The restaurant was almost empty, so we scored the best table in the house, plus were able to shift ourselves onto couches next to a roaring fireplace once our sticky dessert was devoured. (Kind of reminded me of years gone by when we'd buy cheap Mets baseball tickets and gradually move down towards the field as the game progressed.) The total cost was less than $20 (including tip) for an indulgent splurge, which kept us on budget while still feeling like a treat.

I finished my library copy of Cait Flanders' The Year of Less, and started reading a new library book.

I'm starting to plan for next week when we'll be celebrating both my son and my husband's birthdays. I switched over to experiential gifts a number of years ago, so I won't be puchasing any things for either of them.  Instead we'll do a Birthday Day of Adventures which'll be fun for the all participants. (Unlike physical gifts which are only enjoyed by the recipient.) As always, I'll keep a tight eye on the budget, but there will be indulgences mixed into the day. I have a few specific plans already, but won't share them in case certain people happen to read the blog. Not one among us needs more stuff, and since studies have shown that experiences make us happier than material things, this family tradition is a keeper.

I sold a small item on eBay that had otherwise been collecting dust, the lettuce that I planted using free seeds are starting to sprout, my father took me out to lunch, I bought a couple of items at Goodwill to resell and I work the next couple of days at the hospital, including one day where I'll enjoy free food due to it being "Nurse's Week."

I didn't buy a Lear Jet or a vulgar gold-plated apartment in the sky.
Now your turn. What frugal things have you been up to?
Katy Wolk-Stanley    
"Use it up, wear it out, make it do or do without."