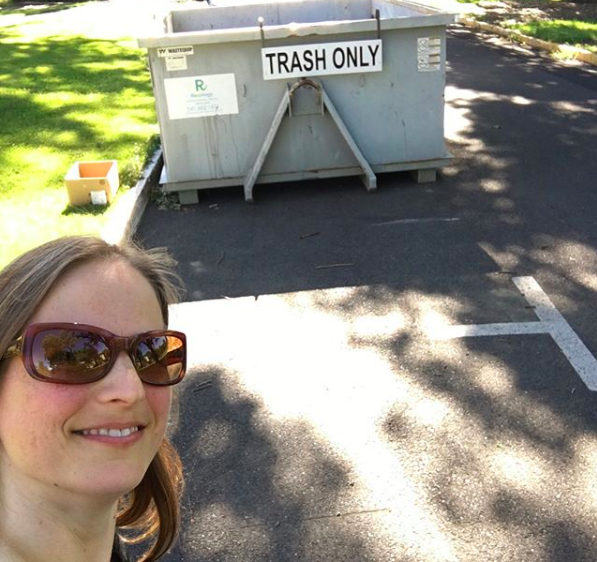 My husband, son and I drove down to Ashland, Oregon for our daughter's college graduation. (Update: our oldest has transitioned to female and uses she/her pronouns.) We're extremely proud of her accomplishments and so excited to cheer her on in person. There's nothing frugal about putting someone through college, but our frugal choices made it possible to see her through college without student loans.

She's taking two last classes this summer to complete her requirements, but they still let her walk in the graduation ceremony.

I took a stroll past the dorm room dumpsters, (as well as my daughter's apartment dumpster) to peruse the merchandise.

I found:

– A boxed pre-lit artificial Christmas tree.
– A fancy thermal coffee maker.
– A crock pot.
– A pair of Nike sneakers.
– Notebooks, pens, files.
– Three snap-top glass containers.
– A Pokemon hoodie.
– A sealed pack of gum.
– Two skirts, two T-shirts, a dress shirt and a pair of jeans (Mostly in my size.)
– Sealed plastic plastic food containers.
– One shower shelf and one over-the-door hook thingamabob.

Ashland is home to the world famous Oregon Shakespeare Festival, but their amazing theater productions don't fit in our current budget. (Tickets run $44 – $110 apiece.) Instead we enjoyed one of the free Green Show performances that run daily from June through October.  Am I sad that we're currently unable to afford such an luxury? No, I'm just happy to have the circumstance to sit outdoors and listen to a free musical concert.

We indulged in a few wonderful restaurant meals while in Ashland, but ate $1.50 Costco hot dogs while stopped for cheap gasoline in Roseburg, Oregon. I cannot stress strongly enough how extreme frugality allows for money to be available for the things that actually matter.

For those who may be visiting Ashland, I highly recommend the Morning Glory Café, which serves the most delicious brunches in southern Oregon. (Just writing about them makes my mouth water.) Needless to say, I consider them to be a worthwhile indulgence.

My son found $13.53 of coins outside a dorm on his campus, (click HERE to see the proof!) we were so stuffed from our Morning Glory brunch that we didn't stop for food while driving back to Portland, I sold a thrifted lawn mower, a pair of gardening boots and a guitar case, I read a book I already owned (Ursula LeGuin's The Left Hand of Darkness) and then renewed my library books, our neighbor took care of our cats for free, (a reciprocal agreement) I used my AARP discount at the motel and I remembered to turn our hot water heater down while we were away.

I didn't buy a Lear Jet or a vulgar gold plated apartment in the sky.
Now your turn. What frugal things have you been up to?
Katy Wolk-Stanley    
"Use it up, wear it out, make it do or do without."