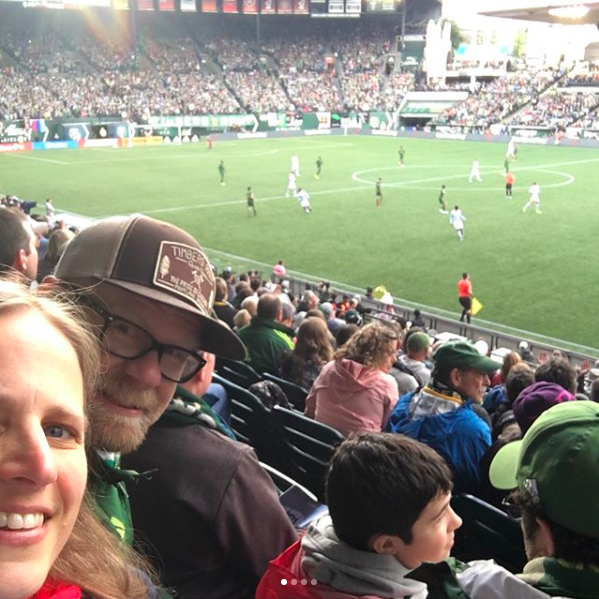 I drove to Costco to pick up a few things, including a tank of gasoline. My husband had let our minivan gas drain down to a dangerous level, and I gotta say that I was a bit nervous driving across town on an almost empty tank. I could have filled up at a gas station near the house, but since Costco's gasoline is consistently priced 40¢-per-gallon less than regular stations, I saved $7.60 with this gamble. I did go into the store for coffee beans and frozen blueberries, but you know that I snagged enough food samples to count as lunch.

My son is home from school for the summer, and I have a tendency to spoil him rotten with restaurant meals and treats galore. (MY BABY!!) The two of us were readying for an afternoon out and about, so I made sure to fill our bellies with food from home before we headed out into the world. Sure, I bought him a $1.25 donut from the locally owned Helen Bernhard Bakery, but that was a much lower expenditure than an entire meal for two.

My husband, younger son and I will be driving down for our oldest's college graduation this week. We'll be splurging on nice restaurant meals and a decent motel, but that's only because we scrimp in the unimportant areas so that money is available for the stuff that does matter. And without the burden of student loans, our graduate will hopefully be set up for a sound financial future.

I bought a semi-formal dress at Goodwill to wear to graduation, (as well as a memorial tribute to a family friend) my son painted an old pair of shoes for a new look, I sold a thrifted Bilibo baby toy through Craigslist, I'm in the beginning stages of planning a garage sale, I worked two days this week and foraged for food on a day that I didn't bring a lunch and I enjoyed free food, booze and soccer tickets thanks to the Safeway Hometown Heroes award that my husband received. (Plus a $100 Safeway gift card!)

I didn't buy a Lear Jet or a vulgar gold-plated apartment in the sky.
Now your turn. What frugal things have you been up to?
Katy Wolk-Stanley    
"Use it up, wear it out, make it do or do without."