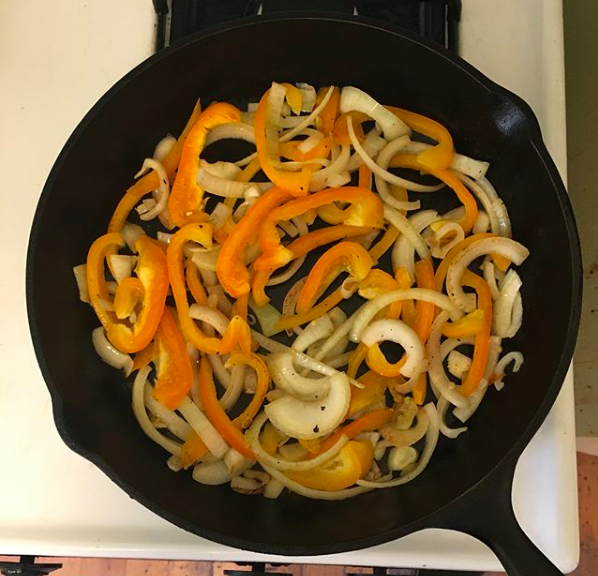 I needed to pick up a few things for my husband's work lunches, so I made pit stops at Trader Joe's and The Grocery Outlet, which are conveniently located just a few blocks apart. I bought nothing more than bananas at Trader Joe's, as they're 19¢ apiece, (a likely loss leader) and then completed the rest of my marketing at the random-inventory-but-man-is-it-cheap Grocery Outlet. Among other things, I picked up 25¢ bags of sunflower seeds, as well as 33¢ turkey dogs and 25¢ peppers from the clearance shelf. I love red and orange peppers, but hesitate to buy them in bulk as they can be a bit of a luxury item. I didn't hesitate to buy all of them, as they're easily sliced and frozen for future use. I spent $43.50 between the two stores and brought home four bags of groceries.

I worked at the hospital on Monday and Tuesday and brought my lunch from home and drank the free so-so coffee. I had the opportunity to go home early on Tuesday, but chose instead to work on continuing education even though sitting at the computer for so many hours can cause time to slow to a glacial pace. Once I'm at work I always choose to stay. I'm there, I might as well get all my paid hours.

I used the free public transportation pass that I get from my employer to go downtown. My transportation needs rarely mesh well with taking the bus, so I'm always happy when I can use this benefit.

I sold two textbooks that I picked from a free pile, (or "freeple" as they've been cleverly titled by my niece) as well as a thrifted Jonathan Adler bookend, I finished a library book and just puttered around the house yesterday rather than going anywhere beyond the grocery store. Doing nothing is always the cheapest option.

I didn't buy a Lear Jet or a vulgar gold-plated apartment in the sky.
Now your turn. What frugal things have you been up to?
Katy Wolk-Stanley    
"Use it up, wear it out, make it do or do without."