I needed to drive my son back to school yesterday, as he'd spent the weekend at home for a Portland Timbers soccer game. We've driven the Portland-to Eugene route approximately 70 bajillion times over the past two years, so to say that it's become routine would be a massive understatement.
I proposed the idea of doing some exploration along the way, which my son happily agreed to. Neither of us had any set plans for the evening, so we were able to to slowly meander our way down the I-5 freeway.
Our first stop was to the Wilsonville Goodwill, which I'd never been to before. Our first reaction was that this store mostly featured the fast fashion/fast decor trend of today's American consumer. (Old Navy/Target/Wal-Mart/Home Goods, etc.) However, I did come across a cute 1979 Taylor & NG brand "Le Chat" cat dish for $2.99. I love the graphics on this brand, so it was an easy decision to pull the trigger. I will put this bowl up for resale on eBay at some point, but for the interim, it now holds water for my own kitties.
My son chose a T-shirt from the Art Institute of Chicago, a FIFA 2018 soccer video game and a chocolate bar.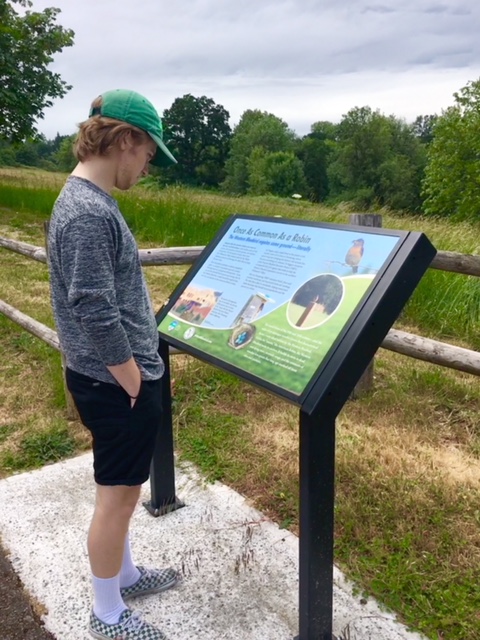 And lest you think that all we ever do is go to Goodwill, our next stop was to Champoeg State Park, where we poked around the reconstructed historic barn, as well as the small pioneer museum and surrounding locale. Set in a stunningly beautiful area of Oregon, we scored big time as it turned out to be a free entrance day! We could easily have spent an entire day walking the trails and exploring the area, but hunger reared its ugly head, so we drove the ten minutes or so back to the I-5 on ramp.
I'd already come up with a frugal meal plan, as I was in possession of a $7 Burgerville gift card. For those of you familiar with this pricey Pacific Northwest chain, you probably think that there'd be no way that two people can eat at Burgerville for a mere $7.
Think again.
I've discovered that Burgerville will add lettuce, pickles, tomatoes and onions to their "original" burgers for free. This meant that my son and I could enjoy hearty $1.89 cheeseburgers instead of the normal $4.29 price for one of their Tillamook cheeseburgers. I then added a large fries to the order for a total of $6.49. I'd filled reusuable water bottles at home, so we were set on beverages.
The last town on our journey with a Burgerville was Albany. But guess what we found in Albany? That's right, a Goodwill! (Okay, I guess I am kind of predictable. But I had a gift card, so I defend that it was a sound decision to at least poke my head into the store.)
The Albany store was a bit better in my opinion, as there were more vintage items to be found. I was tempted to buy this antique oak table, but it was an awkward size. Too low to be a lamp table, yet too small to be a coffee table. Plus, it had a sizable knick on one corner. At $19.99, I left it behind.

However, I was willing to take a gamble on this vintage rattan table, as the $4.99 price tag appealed to my thrifty self. I'd been looking for a piece of project furniture, and this one ticked all my criteria. Cheap. Sturdy. Good lines. Cheap. (Yes, cheap is key!)

My son didn't find anything to buy.
At this point we drove straight through to Eugene, as I would still have the two-hour drive back to Portland.
I did stop off at Fred Meyer for cheap gasoline and fruit, as the single small burger didn't really sate my appetite. (The fries were for my son.) One two-pound container of strawberries later, I was back on the road, This American Life playing on the stereo and a contented feeling in my heart.
A good day spent with my young adult son. Filled both with important conversation and companionable silence. Exploring the world that normally whizzes by.
Katy Wolk-Stanley    
"Use it up, wear it out, make it do or do without."