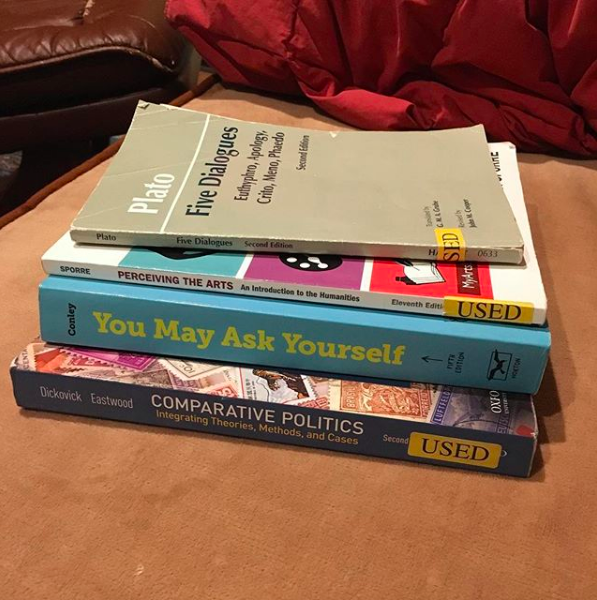 My son came home for the weekend to watch the Timbers vs. LA Galaxy soccer game. (He was excited to see Zlatan Ibrahimovic.) Instead of planning a meal out as we normally do, I assembled a huge pan of lasagna which I knew he'd been craving. There are even enough leftovers to send him back to school with a couple of microwavable servings.

The two of us went for a evening walk and happened upon a pile of leftover garage sale stuff. It didn't look too promising, but I figured it was still worth my time to give it a thorough examination. There was a small box of books which contained a few current textbooks. As the parent of two college students, I'm hyper aware of how expensive textbooks can be, so you know that I scooped those bad boys up in the name of resale! I listed the books on eBay as soon as we got home and woke up to the notification that one had already sold! What I love most is that I'm putting these abandoned books into the hands of students who need them.

My husband agreed to be interviewed on camera for an in-house Nike video about women's soccer. The interview took place in a British theme pub conveniently located in our neighborhood, so I went with him as we had plans afterwards. The producer was insistent that we order meals, which I was very happy about as A) I like free food, and B) the food was freaking amazing! I ordered a steak and ale pie, which came with creamy mashed potatoes and fresh mushy peas, while my husband enjoyed a big plate of fish and chips. It was seriously one of the best meals I've had in ages. Plus, you know . . . free!

I sold a vintage Jadeite pepper shaker through eBay, I went into two Goodwills without buying anything, (the real savings in life is in what you don't buy) I took my son out for pie without ordering anything for myself, (while also using a Chinook Book coupon) we chose to watch a streaming movie at home instead of seeing the new Star Wars movie and I made a serviceable but ugly Frankenbox to mail out the pepper shaker.

I didn't buy a Lear Jet or a vulgar gold-plated apartment in the sky.
Now your turn. What frugal things have you been up to?
Katy Wolk-Stanley    
"Use it up, wear it out, make it do or do without."