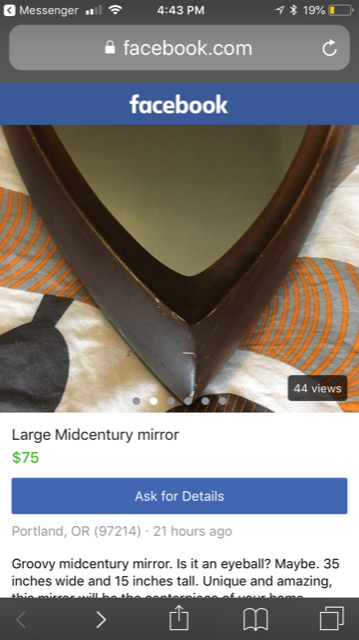 I received a phone call from the Supercuts training center asking if I had time to come in for some free highlights. Luckily my day was easily shuffled, so I motored over to indulge in some low cost no cost pampering. I had the stylist put in some red and blond streaky bits that wouldn't look too obvious while growing out, as I'm not planning on creating an entirely new budget category for beauty. I was told that this service would normally cost $60, which I know is much less than it would have cost in a private salon. I did tip $5.

I sold a vintage globe and mirror through Facebook Marketplace and NextDoor.com. I also picked up a guitar case and a toy to sell from the Goodwill nearest to Supercuts. I shared the details over at my Instagram account. The money will go into our anemic emergency fund.

I've recently been down a deep rabbit hole of YouTube videos about income inequality. It started with episodes of the British show Rich House, Poor House, but expanded to include How The Other Half Live, as well as a myriad of other news programs and documentaries about the struggle to survive while living on minimum wage earnings. Whoever the cyber-geeks are at YouTube who set up this particular algorithm for me, I say a sincere and honest thank you.

Also . . . Star Trek Rules, Star Wars drools!

I worked two days and brought my lunch both days, I drank the free so-so coffee, I finished a library book and started another one, I bought all the ingredients to make lasagnas, including cottage cheese, which I always mash up to substitute for pricey ricotta and I found a cute Orla Kiely toiletry kit at the Goodwill Outlet, so I gave away the one I already owned through my Buy Nothing Group. (I try to always get rid of stuff if I bring home new things.)

I didn't buy a Lear Jet or a vulgar gold-plated apartment in the sky.
Now your turn. What frugal things have you been up to?
Katy Wolk-Stanley    
"Use it up, wear it out, make it do or do without."