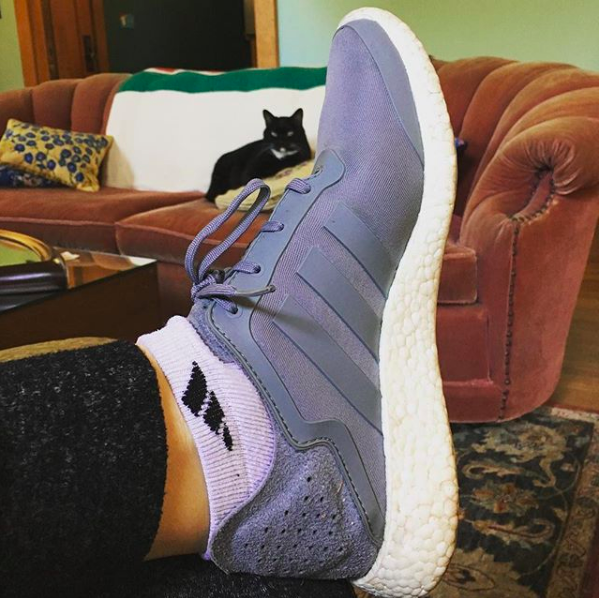 I food shopped today, which involved going to three different grocery stores. As inefficient as this sounds, it's not actually that bad. (19¢ bananas are worth an extra trip to Trader Joe's, especially since it's just a few blocks from the Grocery Outlet!) The last trip was to New Seasons, (like Whole Foods) because I wanted a few of their house made sausages. Add in that this store is a quick five minute walk from my house, (and offers free snacks) and my shopping was soon completed.

Buying food on a tight budget often requires multiple stops, which I admit can be a real pain in the tuchus. However, the extra work keeps us in the black and allows us to afford the things that really matter such as double college tuition and the myriad of related expenses.

I needed a new pair of sneakers, but I remembered that my son had bought a $5 pair at Goodwill that didn't quite fit him. I tried them on and they fit me perfectly. Now not only do I have a "new" pair for myself, but it helped declutter my son's room! I made a decision 11-1/2 years ago to stop buying new things. I can't think of the last time I've needed to break this promise, as almost everything is available used or maybe didn't need to be purchased in the first place. Over manufacture of consumer goods is a huge problem for our planet, so I think twice before mindlessly buying new stuff.

I sold a thrifted Starbucks mug through eBay, and although I haven't sold anything else over the past couple of days, one particular item has received multiple inquires, so I expect it'll sell soon. I'm scheduled to work a 12-hour shift at the hospital tomorrow, which'll pay time-and-a-half.

I didn't buy a Lear Jet or a vulgar gold-plated apartment in the sky.
Now your turn. What frugal things have you been up to?
Katy Wolk-Stanley    
"Use it up, wear it out, make it do or do without."