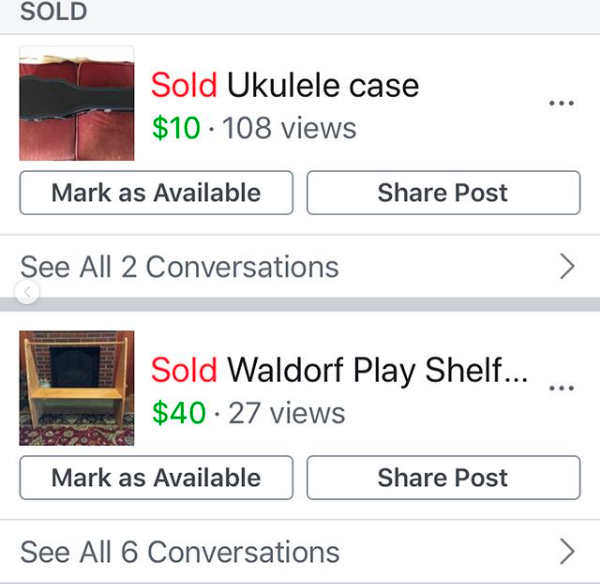 I stopped into Costco with a plan to pick up salmon, but changed my mind after calling my husband and being reminded that he wasn't actually going to be home for dinner. Instead of spending $15 or so on salmon, I sprung for a $4.99 roasted chicken which fed us for days (including a work lunch) and finally got demoted to soup. Of course, I also enjoyed my fair share of tasty free samples.

I sold a thrifted ukulele case and then listed a couple of items on Facebook Marketplace that I'd picked up at the Goodwill Outlet while hanging out with my mother. Neither will anchor a "Woman buys Picasso painting for $2 and sells it for $20 million" clickbait article, but it's still nice that most of my hobbies earn money, so I'll take it. The potential income will be especially welcome, as the Goodwill trip was on a day where I got called off from the hospital and missed out on hundreds on dollars of pay. (When there aren't enough women in labor, we labor and delivery nurses get put "on call." However, I am scheduled to work Memorial Day which is a time-and-a-half holiday, and should balance out my paycheck.)

The sun has been making almost daily appearances here in Portland, Oregon, which means that I'm starting to consistently use our backyard laundry line.

I do have a fully functional dryer, so I'm in a privileged position to choose how I do my laundry. Plus, I'm not burdened by any rules about what I can or cannot do in my own yard. Get ready for some clothesline selfies to start appearing in my Instagram account!

I continue to practice daily frugal habits and hacks such as picking up free temporary checks at my credit union, bringing my own work lunches in zero waste packaging, reading library books, whipping up frugal meals such as white bean rosemary soup featuring Dollar Tree beans and rosemary from my neighbor's prolific bush, updating and tweaking our monthly budget, (my husband's medical bills keep sneaking into our mailbox. Hello . . . that surgery was two months ago!) and accepting an invitation to enjoy a free casual Mexican dinner at my husband's place of work. (Free food?! What? Where?!)

I didn't buy a Lear Jet or a vulgar gold-plated apartment in the sky.
Now your turn. What frugal things have you been up to?
Katy Wolk-Stanley    
"Use it up, wear it out, make it do or do without."