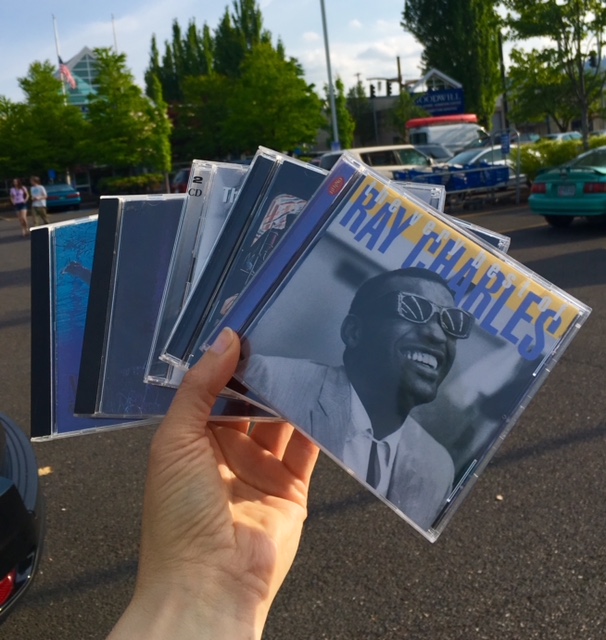 My youngest son came home for the weekend so we could celebrate his twentieth birthday as a family. (Can I get some kind of medal for ushering both my kids through their teen years?!) As always, we structured a Birthday Day of Adventures to put the emphasis on experiences instead of stuff.

Our main activity for the day was a Portland Timbers soccer game. My husband scored free tickets through his employer, which meant he could sell our regular Timber's Army general seating tickets. We then popped by Pip's Donuts for a free dozen mini-donuts and topped off our culinary indulgences at a nearby food cart pod where we each could indulge in our own personal favorite. (A gyro for my son, a bacon cheeseburger for my husband and a Korean Bibim box for me!)

The amount we received from selling our Timbers tickets more than paid for our meals, bringing the cost of our day to an even zero dollars!

Afterwards my son asked if we could stop by Music Millennium, but I said "no" as our budget didn't allow for much extra. (Living on a limited budget means your kids get used to hearing the word "no.") However, I remembered that I had a Goodwill gift card in my wallet, so I told my son we could stop by the main location to browse their music. Luckily, the CD selection at Goodwill is enormous, and my son chose five different artists, (Black Sabbath, Nirvana, Ray Charles, Bob Dylan and one that eludes my memory) and my gift card covered the $9.95!

I finally sold a Waldorf play stand that I'd picked up at the Eugene Goodwill last month. I was starting to think it would never sell, but in the end I made a $30 profit. I have a policy to only buy things for resale that I'm happy to keep, but somehow broke my own rule in this case. The damned thing took up a lot of space, and was a constant reminder to not treat my living room as a furniture showroom. I was more than happy to see it drive off, and it was a good reminder to follow my own advice.

I drove my son back to college yesterday, and we enjoyed $1.50 Costco hotdogs after gassing up the Prius.

I stopped at the big Eugene Goodwill after dropping my son at his apartment. I browsed the store and found a few items to bring home:

– A 99¢ bakelite handled knife sharpener to keep.

– A groovy $2.99 vintage wastebasket which will replace the ugly plastic tub we've always used for kitchen recyclables.

– A $9.99 American Girl doll, which was grubby and had impressively tangled hair. (All grubbiness was reversed using a single alcohol prep pad.) I'll try The Frugal Girl's doll hair trick to ready it for resale.

– A 99¢ vintage Cape Cod souvenir tray for my step father who collects them.
– Two new-in-package ($2.99 and $4.99) windshield wipers that were miraculously the correct size for our minivan.

I didn't buy a Lear Jet or a vulgar gold-plated apartment in the sky.
Now your turn. What frugal things have you been up to?
Katy Wolk-Stanley    
"Use it up, wear it out, make it do or do without."