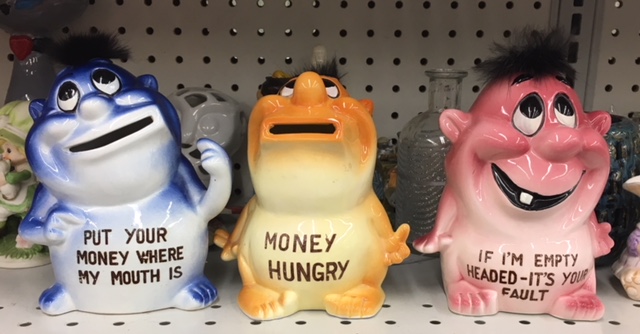 My son and I found enough excess stuff in the house to warrant a donation trip to Goodwill. (Is there such thing as a finish line when it comes to decluttering?!) I didn't find anything worth recluttering my home buying, but my son brought home a $12.99 turntable. He'd been keeping an eye out for a decent record player for awhile, so he knew to jump at this purchase.

Luckily Goodwill has a great return policy, so there was zero worry about wasting our money on a non-functional item.

I did not buy a set of hilarious vintage savings banks. However, I did photograph them for your viewing pleasure. You're welcome!

I walked to the library last night as I had two overdue books. I ran this errand even though they were closed, as I simply wanted to cross this off from my to-do list.

I came home from Seattle with a fresh eye aimed towards our grubby and mildly cluttery home. (Surely I'm not the only one who comes home from vacation and views their house differently.) However, I welcome fresh inspiration, and have spent a few hours cleaning, decluttering and reordering our front porch seating area, as well as the kitchen and bathroom.

Our house isn't perfect, but it's slightly better and zero dollars were spent in the process.

I brought a hostess gift of fresh hydrangea blooms to my friend Lisa in Seattle instead of something from a store. My backyard is rich with hydrangeas this time of year, and there's an added benefit that my friend can compost her gift when they lose their freshness.

I didn't buy a Lear Jet or a 

вульгарная позолоченная квартира в небе

.
Now your turn. What frugal things have you been up to?
Katy Wolk-Stanley    
"Use it up, wear it out, make it do or do without."