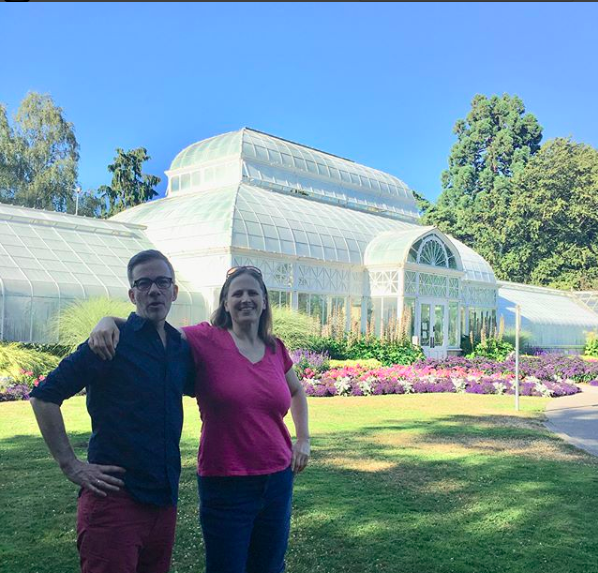 My son and I drove up to Seattle for a lovely little three day vacation. This was prompted by an invitation from my friend Lisa whose family was out of town, leaving her with an empty house and a generous mindset. Never being one to turn down an invitation for a free vacation, I consulted my calendar and booked our stay.
I'm kind of paranoid about being labeled "a mooch," (writing as "The Non-Consumer Advocate" can lead people to believe that I'm miserly) so I made sure to show my appreciation by paying for restaurant meals and being helpful around the house.
My older sister and I have a running schtick about being one another's "Helmutina," who is a vaguely Scandinavian au pair whose sole mission in life is to keep an immaculate house and entertain the children. It's a good mindset for the ideal house guest, so yes, I donned my Helmutina persona and washed the dishes, swept the floor and attempted to have our presence be a gift instead of a burden. (Helmutina is also extremely sexy, but that's a blog post for another day.)
Unlike a regular vacation filled with activities that empty the wallet and require post-travel recuperation, this trip was low key and straight up relaxing.
What didn't happen:

Space Needle
Pike Place Market
Museums
Street vehicles that transform into boats
Sporting events
Touristy restaurants
Sitting in crappy Seattle traffic while driving from one activity to another.
Purchasing of souvenirs.
What did happen:
Goodwill
Brunch
Capitol Hill farmer's market
Walking through Volunteer Park
Groceries/goodies from Uwajimaya
Hosting a dinner that included another college friend. (Ed!)
Takeout sushi
Watching the World Cup soccer game from the comfort of Lisa's couch.
Much, much conversation and laughter.
Truth be told, I prefer this style of vacation to one that costs thousands of dollars and involves extensive planning, sitting on the tarmac, exhausting activities and expensive admission fees.
Picture, if you will . . . a staycation in someone else's house in someone else's city. Ahh . . . .
Thank you, Lisa!
Katy Wolk-Stanley    
"Use it up, wear it out, make it do or do without."