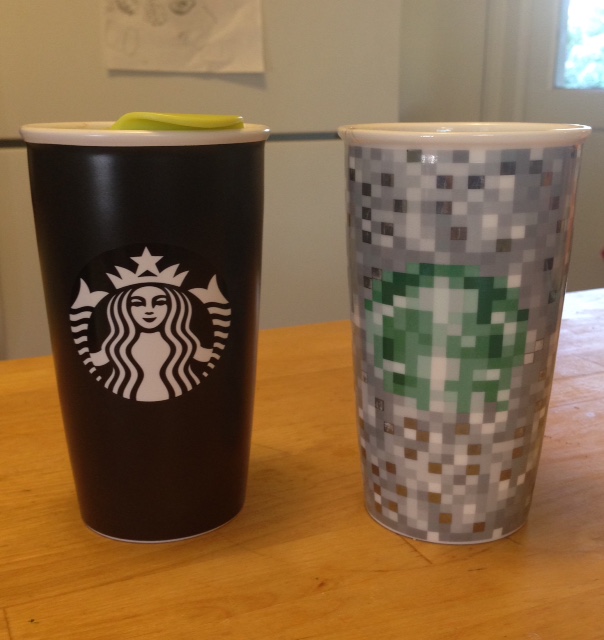 After years of embarassingly expensive Verizon cell phone service we finally switched over to Xfinity Wireless, which has the potential to save us a crap-ton of money. (Especially if we can get the kids to use WiFi when they're away from home.) Time will tell how much money we'll save, but I'll keep you updated.

I thrifted a ceramic travel mug to replace my beloved one which had developed a crack. Because I searched for the same brand, (Starbucks) I was able to reuse the lid. I don't like to drink from plastic or metallic containers, which means that I end up having to replace my ceramic/glass travel mugs/water bottles every few years or so. Luckily, the shelves of Goodwill offer me everything I could ever need.

My daughter broke her glasses, so I logged into the Zenni Optical website and ordered two new pairs for her. I then went ahead and ordered extra glasses for my son, as it's smart to have a backup pair. (Their prescriptions are saved on the website.) I searched for a free shipping promo code and also clicked through Swagbucks, which had a promotion to get an extra $5 back when spending over $25. I spent $48.85 for three pairs of glasses, which I consider to be a great deal.

Disclosure: Both the Zenni Optical and Swagbucks links are referrals. The Zenni one gives you $5 off a pair of glasses, as well as a $5 referral credit for me. I rarely do referral links on this blog, but these are both helpful resources.

My husband has a two day work conference and I'm going to tag along as he's still unable to put any weight on his right foot due to his recent ankle surgery.

I'm going to be honest. I haven't been super excited for this trip, as it's located in decidedly un-glamorous Salem, Oregon. However, I'm going to try and make the best of a dull situation and find fun things to do, as well as put a few days' full focus into my writing projects. Plus there's always that free hotel breakfast buffet.

Edit: This was a snotty thing to write and I apologize. Thank you to everyone who holds me to a higher standard.

I also realized that the Salem Goodwill stores are within the Goodwill Industries of The Columbia Willamette, region, which means that my gift cards will work there. My son is wanting a TV for his apartment, so I'll scour the area thrift shops for one.

Writing + thrifting + free food? Might not be such a dull trip after all!

I didn't buy a Lear Jet or a vulgar gold-plated apartment in the sky.
Now your turn. What frugal things have you been up to?
Katy Wolk-Stanley    
"Use it up, wear it out, make it do or do without."