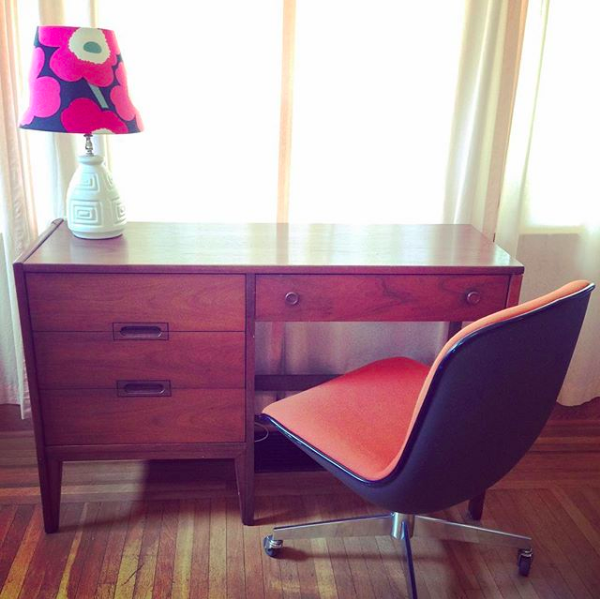 I finally found a great TV for my son's apartment for just $39.99. Because yeah . . . I did my electronics shopping at Goodwill. I'd scoured the Salem, Oregon Goodwills without luck, but found success at the Albany location. I was hesitant with the purchase until the clerk reminded me that all area Goodwills offer a 14-day no questions asked return policy. (As long as you keep the price tag on and return it to the same store with receipt.) And yes . . . it worked!

I also bought a midcentury desk from the same Goodwill, as it was priced at $12.99 which I don't have to tell you is a screaming good deal. Although I have warm and fuzzy feelings about the antique desk that's inhabited our living room for years, it functioned to hold a desktop computer that no one used and not much else. This desk has a larger top surface and will provide much better functionality. Hey . . . it might even inspire me to do more writing. Stranger things have happened!

I picked up three windfall apples from a neighbor's tree and assembled a delicious apple crisp, I bought beets and steamed/sautéed the stems/leaves to go with tonight's dinner and I ate a number of free meals while accompanying my husband during his three-day work conference. Why is cheap food so delicious?

I plucked a grubby small desk fan from a neighbor's free pile, (or "freeple" as my niece calls them) and restored it to pristine condition. My family has a number of large box and standing fans, but were lacking a smaller one. Perfect for the times during cooler months when schlepping a big fan from the attic seems like a Herculean effort.

I found a quarter while out walking with my friend Lise, I arrived early to a work event so I could stop by the labor and delivery unit for a free coffee, I'm selling an antique console table that I got for free, I sold a sweater on eBay, I bought a crapload of groceries at the discount grocery store Winco as I'll be out of town for five days, (my post-surgical husband still can't drive) and I picked up a couple of Goodwill items to list on eBay.

I didn't buy a Lear Jet or a vulgar gold-plated apartment in the sky.
Now your turn. What frugal things have you been up to?
Katy Wolk-Stanley    
"Use it up, wear it out, make it do or do without."