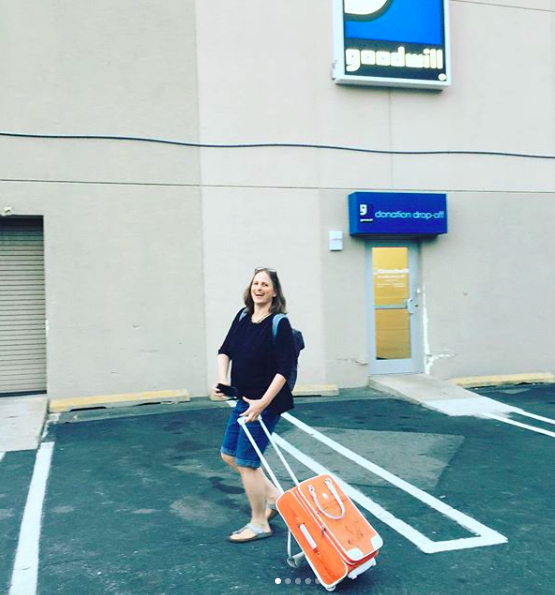 My mother and I are in New York to help my sister with a project, and it's basically the cheapest trip that anyone's ever taken to New York City since travel and money was invented. Why? Because we're staying at her place for free, all meals are provided and the only money I've spent so far is on a couple slices of cheese pizza and an admittedly overpriced Halloween pumpkin for my beloved niece. And since we've hardly strayed from my sister's neighborhood, (except to run errands in her car) I haven't loaded a red cent onto my MetroCard.

I did garbage pick a superficially grubby suitcase from behind the Goodwill, (which cleaned up beautifully) and I've picked up dozens of coins which I'll add up after I get back to Portland.

I'll definitely splurge on a box of Zeppieri's cannoli to bring home for my family, which has become my tradition. Portland has transformed into a foodie's wet dream, however . . . quality Italian style baked goods have yet to cross our borders. And since I can put food soiled paper into my municipal compost, it'll even be zero waste. (I try to only spend on experiences, consumables and necessary items/household expenses.)

I grabbed a variety of snacks for the airplane, saving me from being at the mercy of airline meals priced as if they're dipped in 24k gold leaf and then rolled in free trade, shade grown, gluten-free, organic vegan, bird friendly free range caviar.

My sister is an employee/student of the American Museum of Natural History and was able to get me in for free including entry into the Hayden Planetarium (and the rest of the extra exhibits) which normally costs $33. (I'm actually blogging in a student only area right now, partaking of their kick-ass free WiFi!) I'll then take myself on a self-guided tour of the Upper West Side while my sister focuses on her studies.

We drove up to the New Rochelle Habitat ReStore and picked up a vintage end table and an old and groovy af art-deco table lamp for just $33. Not thrift store pricing, but much less than they would have cost from a traditional retailer.

I didn't buy a Lear Jet or a vulgar gold-plated apartment in the sky.
Now your turn. What frugal things have you been up to?
Katy Wolk-Stanley    
"Use it up, wear it out, make it do or do without."