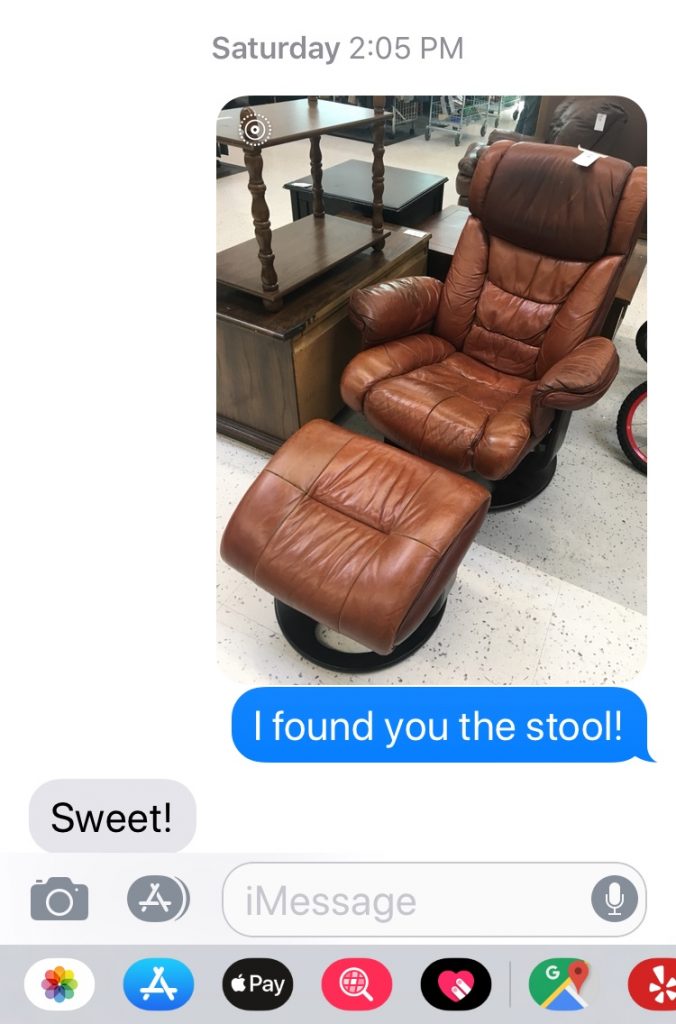 I sold a few items through eBay, including a new-in-box NBA robe, a sparkly Barbie outfit, a load of midcentury tapered table legs, a Hanna Andersson jacket, three Starbucks mugs and some miscellaneous board game pieces. Needless to say, all packaging was on its second (or third) life.

My son was home from college for Thanksgiving break, so we drove up to my father's Mt. Hood cabin so he could spend some time with his grandparents. We broke up the hour-long trip with a stop into the Sandy, Oregon Goodwill, where my son picked out a new looking corduroy shirt and I pounced on a leather footstool that was the exact match to my husband's Lane brand armchair. (Seriously folks, it's the same brand, style and color!) I'd picked up a similar-ish footstool awhile back, but its vinyl had begun peeling like crazy which looked like crap.

Goodwill was selling the chair/footstool combo for just $6.99, but I chose to just buy the footstool as that's all that I needed. And since the price was so reasonable, I didn't even attempt to bargain them down.

I have a theory that every item ever manufactured eventually shows up at Goodwill, and so far this theory has yet to be disproven.

I didn't look for Black Friday or Cyber Monday deals on the internet. 50% off is still 50% that you're paying. My husband and I have had an extremely expensive year with his medical bills and the kids' college tuition. Now is not the time loosen any purse strings. Plus, there's nothing we need. If anything, we need less.

Instead, we've been completely content gorging on enjoying Thanksgiving leftovers and taking full advantage of the free opportunities that present themselves.

I spent five days in New York City helping my sister move. (She's in an intensive graduate school program, which limits her time resources.) My mother booked the trip, so my only related expenses were $25 to ship my suitcase and a few random extras such as gasoline for the truck, a single airport meal, a couple slices of pizza and one diner breakfast. It was a challenging visit, made no better by a big ol' snowstorm, but I'm proud of the amount that we did accomplish.

For reference as to how focused this trip was, I drove a carload of my sister's stuff to Goodwill and didn't step foot into the store!! Shocking.

I didn't buy a Lear Jet or a vulgar gold-plated apartment in the sky.
Now your turn. What frugal things have you been up to?
Katy Wolk-Stanley    
"Use it up, wear it out, make it do or do without."