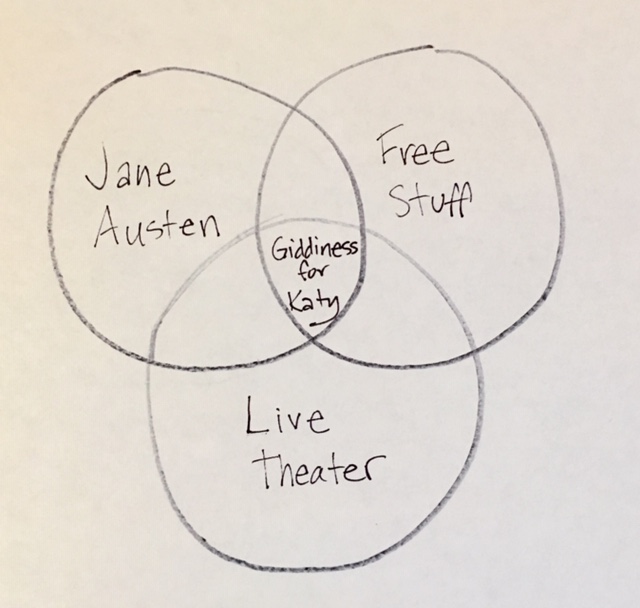 My friend Lise texted asking if I had afternoon plans, as her husband accidentally double booked himself and wasn't able to use his ticket to see a theatrical production of Sense and Sensibility. Umm . . . yes! Because Jane Austen + live theater + free are all things I will 103% agree to. Add the three together and giddiness ensues. The play was superb, both hilarious and poignant. And since it was the final production, the actors chewed up the scenery and threw in spontaneous ad libs that added to the hilarity. Perfection.

I borrowed a productivity hack from Gretchen Rubin and set the stop watch on my phone for one of her power hours. Essentially to devote a single 60-minute period to completing the annoying tasks that normally don't float to the top of one's to-do list. And since I grew up taking dance classes, I add an extra layer to always be thinking two steps ahead, which eliminates the pause points between tasks. No "hmm . . . what should I do next?" which kills any momentum.

So while I'm wiping down the front of the splattered kitchen cupboards, I know I'll clean the cobwebs from the hanging light fixture in the entryway. But I also know that I'll sweep the basement stairs. As I complete one task I add another step, so I always have two more things to do. Like chess, but for household drudgery.

I was able to wipe down the kitchen cupboards, clean the entryway light, sweep the basement stairs, scoop the litter boxes, take out the recycling, put the cover back on the propane grill, wipe down the bathroom, start laundry, sweep the kitchen/dining room, cut forsythia for the dining room, tidy the entryway, (so many shoes!) vacuum the living room/spare bedroom, switch laundry and a couple other things that escape my mind. POWER HOUR!

Portland had been forecasted to receive an entire week of snow. Of course, people panic shopped and cleared the grocery store shelves of bread, milk and hilariously, kale. I shop for the pantry, rather than specific meals, which means that I'm pretty much set for general food prep at all times. Granted, I'm walking distance from two grocery stores, but the panic was still an overreaction. Especially since we received an inch or so of snow which has since been melted by Portland's ever present rain.

I'm happy that my fridge isn't stuffed with excessive amounts of wilting kale.

You can read about "the pantry principal," (which I stole from Amy Dacyczyn) in this nine-year-old blog post.

I sold the top half of a Fiestaware butter dish, I put together a couple new eBay listings, I picked up a library copy of Hooked: How to Build Habit-Forming Products by Nir Eyal, I invited my mother and step father over for a frugal yet delicious dinner, (hosting doesn't have to be expensive) and I worked two 12-hour hospital shifts.

I didn't buy a Lear Jet or a vulgar gold-plated apartment in the sky.
Now your turn. What frugal things have you been up to?
Katy Wolk-Stanley    
"Use it up, wear it out, make it do or do without."