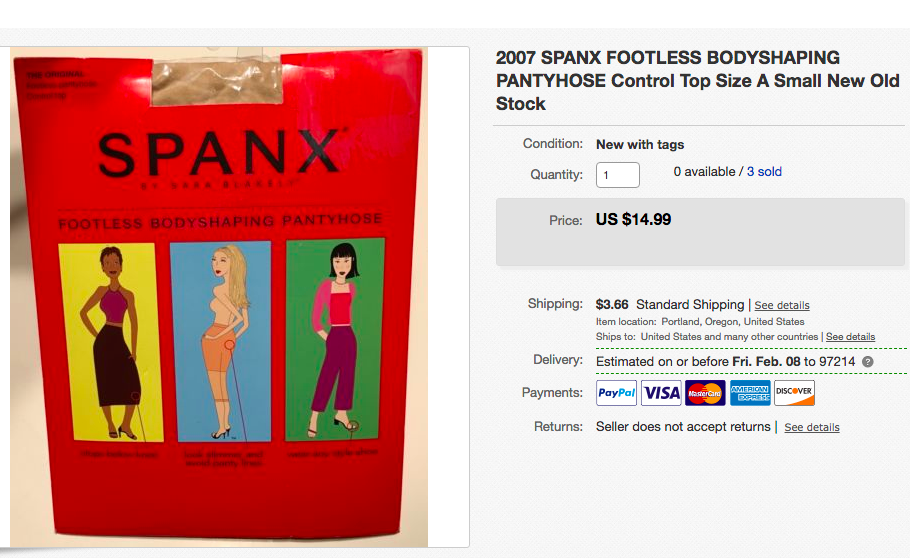 I sold the last pair of my new-old-stock 99¢ Spanx pantyhose that I picked up from the Eugene Goodwill a few weeks ago. I also sold a new-with-tags Goodwill Disneyland mug. (Both through eBay.) I worked three 12-hour shifts at the hospital last week, which sort of makes up for taking two weeks off to visit my sister in New York. I feel like I was hit by a Mack truck, but it'll be worth it when I get my next paycheck. Needless to say, (but I'll say it anyway) I brought my own lunches and drank the free so-so coffee.

I went out of my way to grocery shop at Winco, which has the cheapest prices in town. I then quickly stopped into Goodwill on my way home to peruse the supposed influx of KonMari-inspired donations and picked up a buttery soft Martha Stewart fleece robe for $4. I also popped into Dollar Tree to exchange a wavery pair of reading glasses and grabbed a few things including shampoo, conditioner, soap, toothpaste, knock-off Oxyclean, day old Orowheat bread and English muffins, pinto beans, olives and kosher salt. I bypassed the plastic impulse items and accepted the checker's compliment on my $4.99 thrifted Queen Bee purse. We then had a short but satisfying conversation about all the great finds to be had at Goodwill.

I arranged a grown-up-lady play date with my friend Lise. Did we drink mimosas and get mani-pedis? Nope! We walked to the library and then picked up a few items at New Seasons Market. (Their beets were huge!) She told me how she'd heard an interesting statistic about how social isolation has been found to be equivalent to smoking 15 cigarettes per day. I'm someone who values having time alone, but also need some regular social interaction. However, I'm happy to mostly have my play dates be a walk through the neighborhood or conversations with my co-workers. (Working at the same job for 24 years means that I have deep and honest relationships with the other labor and delivery nurses, even though we never socialize outside of work.) Having a limited budget for entertainment and socializing doesn't mean that I sit at home without social capital.

I'm donating two grocery bags of miscellaneous items to Goodwill this afternoon. Doing enormous Marie Kondo style decluttering is great at the beginning of the journey, but I've whittled down my belongings enough so that it's usually just a few things here and there. Included are a pair of pajama pants that fit weird, (I chalk this up to my lumpy abdomen, not the pants) a ceramic vase leftover from when my mother received an Edible Arrangements bouquet a few years ago, a sealing machine that a friend gave me as part of a load of shipping supplies, an oddly sized Pyrex leftovers container that doesn't fit in my cupboard and a fake flower boutonnière from my son's high school graduation. I simply keep a grocery bag in my dining room for donations and toss things into it when I come across unwanted items. This little-bit-here-and-there method works great for me.

I didn't buy a Lear Jet or a vulgar gold-plated apartment in the sky.
Now your turn. What frugal things have you been up to?
Katy Wolk-Stanley    
"Use it up, wear it out, make it do or do without."