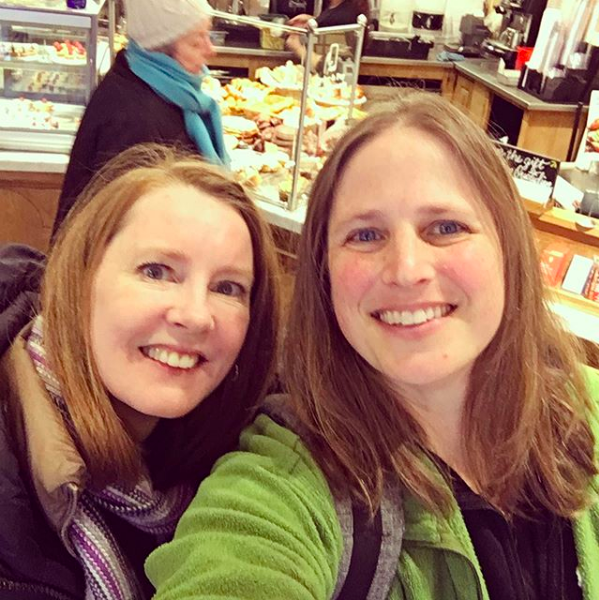 I sold a thrifted mahjong set through Facebook Marketplace, which my husband simply set out for the buyer as I'm still visiting my sister in New York. I also sold two eBay items, (a vintage "Hamm's" scarf and a set of playing cards) which I'll ship once I'm back in Portland. I then wrote two paid articles, which'll help to defray some of the lost income from not working at the hospital. In a nicely timed coincidence, my work bonus appeared on last week's paycheck, which means that I was able to miss two weeks of work without any pay dips.

I arranged lunch dates in Manhattan with a three different friends, yet kept it 100% on budget. How?

– I scheduled a date with my gorgeous and talented friend Greta. She works at one of the city's universities, whose campus features a solidly acceptable on-site cafeteria. And since their employee dining hall looks out over the East River, we enjoyed a million dollar view to go with our $9 salads. The hidden bonus of not choosing a traditional restaurant was that there was no tip, as it really was a straight-up cafeteria. Plus, they give out free fancy chocolates with every lunch!

– I then planned a get together with my old friend David, who works for a Manhattan based Hospital. (Coincidently up the street from Greta.) He gave me the choice to either find a restaurant or to eat at the on-site cafeteria. (I think you can see where this is going!) Yup — cafeteria! Since I was paying cash, I even got to use David's employee discount, which brought the price of my lunch down to a mere $6.50. Again, there was no tip to pay. My goal with these dates was not to dine at the city's finest establishments, but to catch up with old friends and not keep them away from their work duties any longer than necessary.

– I lastly met up with my old blogging pal, Gretchen Rubin. She chose the restaurant Le Pain Quotidien, which is a national chain. Me being me, I researched whether they had an app that might offer freebies to new members. Ding-ding-ding! Not just a free coffee or dessert, but an actual free entrée! This lunch ended up being the cheapest of all my lunch dates, as my only billed item was a drip coffee.

My sister has never ending papers to write as part of her graduate school program. However, it can be difficult to focus while in the apartment, so I convinced her to dedicate a couple hours of studying at the Mamaroneck public library. They have a beautiful reading room with long tables and a decidedly serene atmosphere. (Plus free parking on Sundays!) We both got some work done, although I did sneak out to grab us a huge Italian combo hero from Cosmo & Alex Pisano Bros, and costs just $7.50.

The library houses a used book store in the basement, but also has a cart of free (free!) books. I was able to find a book which'll do quite nicely as an airplane read for my return trip to Oregon. For free! Free. (Free!)

I'll be hitting up my sister's grocery store in the morning to stock up on food for my trip home. Although the flight itself is just 6 hours, I'll leave for the airport 5 hours in advance, (multiple public transportation cogs, plus a few hours early to satisfy any paranoia about arriving late for my flight.) In total, I'll be 11-1/2 hours between my sister's apartment and my own refrigerator house. I don't want to get hungry and held hostage to airplane food, which is the worst combination of yucky and expensive.

I didn't buy a Lear Jet or a vulgar gold-plated apartment in the sky.
Now your turn. What frugal things have you been up to?
Katy Wolk-Stanley    
"Use it up, wear it out, make it do or do without."