This blog post first appeared over at ClarkHoward.com. Enjoy!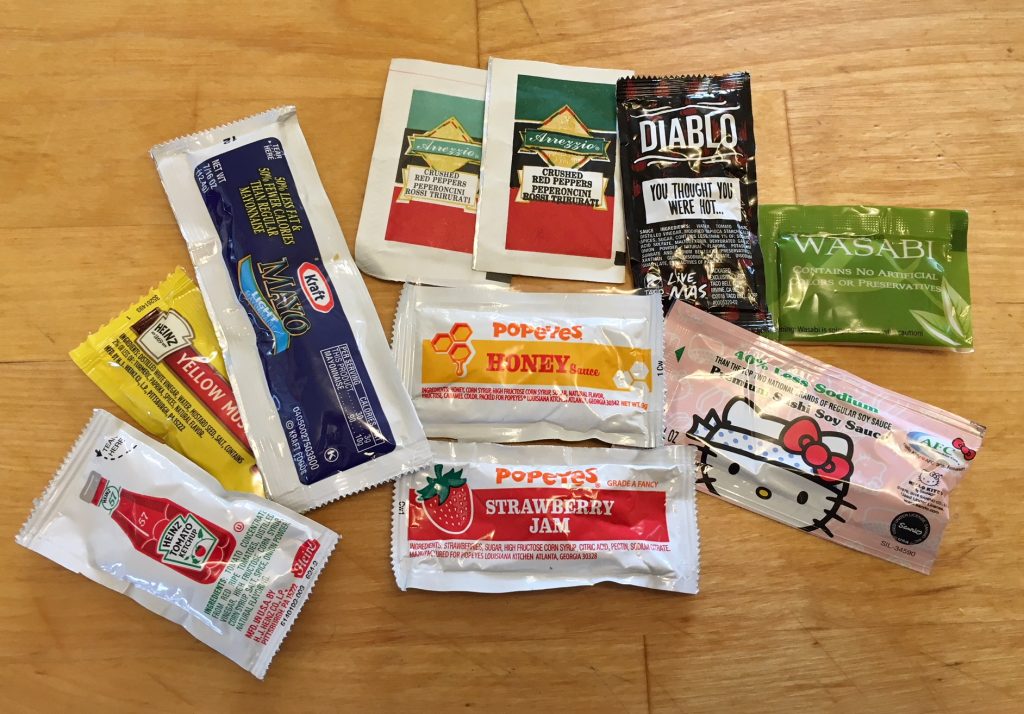 When keeping to a food budget it's important to keep your recipes simple and classic. But no one wants to give up flavor in the name of financial responsibility. Guess what? You probably already have a stash of cheap-o recipe boosters — your random jumble of condiment packets! You know, all those takeout ketchup, soy sauce and hot sauce packets that usually just languish in the back of your fridge or pantry.
Luckily, there are many culinary dishes that lend themselves to the bit of this, bit of that style of cookery magic and will not only save you money, but turn out to be quite delicious.
Meatloaf
Whether you're using your grandfather's secret recipe as a guide or following the classic Betty Crocker version, meatloaf happily welcomes packets of ketchup, mustard, barbecue sauce, soy sauce or even the spiciness from a packet or two of Taco Bell hot sauce. You may never make it the same way twice, but you're sure to create something special.
Deviled Eggs
Deviled eggs are another savory treat that easily accepts a bit of kitchen experimentation. Squeeze out your unopened packets of wasabi or simply go the tried and true route of mayonnaise and mustard. Either way, you'll be the hit of your next potluck.
Marinades
You already know that marinating meat is the secret to adding flavor and moisture to an otherwise bland piece of meat. But there's no reason to pay big bucks for bottled marinades, as creating your own is almost as easy as pouring milk over a bowl of cereal.
Marinades are usually just a combination of:
An acid such as lemon juice, vinegar or wine.

Oil.

Spices and flavor, which is where you get to flex your creative muscle!
Sure, you can follow a specific recipe for guidance, or simply refer to a marinade guide such as this one from The Splendid Table, but once you've figured out the general formula, you'll be rifling through your condiment packets looking for jam, soy sauce, hot sauce, honey and hot pepper flakes.
Pesto
Pesto is traditionally made with fresh parmesan cheese, basil and pine nuts, but I'm simply too cheap to splurge on all these expensive ingredients. Instead, I'm a fan of this pesto recipe, which uses inexpensive greens such as kale. However, I've taken it one step further and incorporate tiny packets of parmesan cheese, which I hoard from delivered pizzas. (I'll even scoop them up after work events.) It may take a large number of them, but they quickly pile up, especially if you're attending events where multiple pizzas are being served.
Salad Dressing
Bottled salad dressing can be a real budget buster. Sure, you can pay as little as a buck from Dollar Tree, but making your own from scratch will end up tastier and likely even cheaper. I'm partial to this honey mustard salad dressing recipe, which uses standard ingredients to create a gourmet flavor. Best of all? It's the perfect opportunity to take advantage of all those mustard condiment packets! Or you can try this vinaigrette recipe and use up your miscellaneous jam packets.
Use As-Is
All of this dietary experimentation might not be your style, in which case you can always save those condiments for packed lunches, picnics or camping, as their small size minimizes weight and doesn't require refrigeration.
Final Thought:
Whether you're squeezing a ketchup packet onto a home grilled hamburger or working it into a recipe, you're saving money by using what you already own. Resist the urge to toss these culinary gems, and instead set them aside for a night of experimentation.
Your only limitation is your imagination.