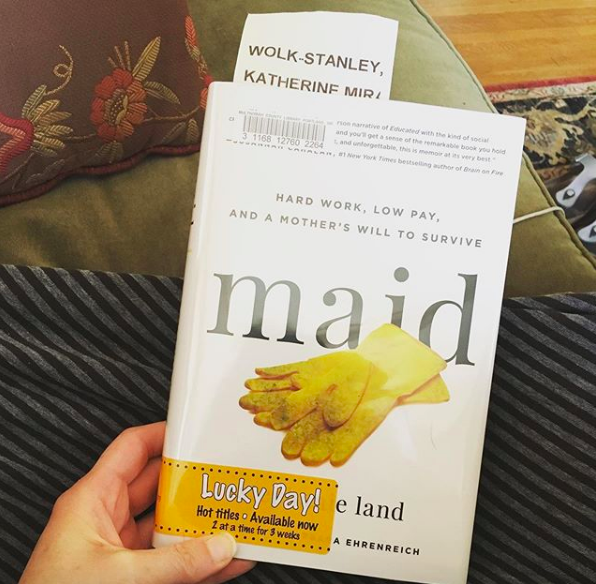 I just finished reading a library copy of the book Maid: Hard Work, Low Pay and a Mother's Will to Survive by Stephanie Land. In this memoir, Land chronicles the years she spent cleaning houses while simultaneously single parenting her young daughter. She is a deeply gifted writer, and her stories of how she survived this era are both vivid and informative. Poverty is a complex multi-generational issue, and I highly recommend this gripping book for anyone who's interested in the human experience.

And yes, I returned it to the library before it accrued any late fees!

I did a large grocery shopping trip to Winco Foods, which is a regiobnal no-frills chain. It's not in the neighborhood, (which is a tremendous pain in the tuchus) so I give myself a pat on the back whenever I schlep myself across town in the name of frugal adulting. Winco is employee owned and stories abound of long time employees with millions of dollars in their retirement accounts. Their prices are often half of those such as New Seasons or even Kroger, and I brought home six full bags of groceries for just $78. (It was only that high because I've been buying gluten-free items for my daughter. Think $5 loaves of bread and $4.50 packets of tortillas!) I really respect this company and feel good giving them my dollars.

I somehow assembled a pan of enchiladas on a day when the refrigerator appeared to contain nothing more than Zuul, the gatekeeper of Gozer. (Ghostbusters, anyone?) I pulled together frozen corn tortillas, as well as leftover rice, beans, cheese, plus frozen shredded chicken and corn. I even had a random can of gloppy green enchilada sauce that I'd picked up from The Grocery Outlet, which completed the assemblage. It would impress zero-point-zero foodies, but it was filling and tasty. It certainly kept me from hitting the grocery store that day, which I call a frugal win!

I convinced my daughter to hold off from getting her hair cut until the Supercuts training center is giving free cuts again, (probably next week) I batched errands to hit the credit union, library and grocery store, I hung laundry on the clothesline and I made sure to turn off the furnace since I was opening windows to get fresh air in the house.

I didn't buy a Lear Jet or a vulgar gold-plated apartment in the sky.
Now your turn. What frugal things have you been up to?
Katy Wolk-Stanley    
"Use it up, wear it out, make it do or do without."