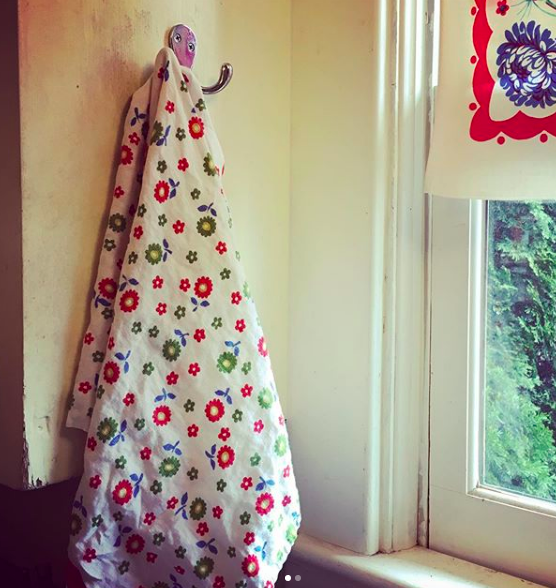 I sold a pair of thrifted soccer cleats and a bicycle pannier through eBay, as well as a pair of Dansko sandals and an American Girl doll through Facebook Marketplace. I'm arranging to work eight hours of paid online education that I can complete at home. Nurse wages while wearing pajamas? That's the dream!

I schlepped my tuchus across town for another large grocery shopping trip to Winco. They're far from convenient, but their prices are low enough to make it worth the effort. Plus, you can't beat that they reimburse you 6¢ per bag.

I whisked my mother off for a Goodwill Outlet (bins) adventure. My goal is always to find things I can sell on eBay, but I also keep an eye out for things my friends and family can use. This is why I nabbed a set of dog waste bags for my friend Lise. (Brand new — I know I shouldn't have to clarify this, but I concurrently know that I should.) For myself I bought a vintage linen tea towel, a quality sweater for my husband and a doll dress for my childhood Sasha doll, as I keep stealing her clothes to plump up American Girl doll listings. (Because the only thing creepier than a 51-year-old woman who still loves her childhood doll, is a 51-year-old woman who insists that her doll be nekkid.)

To sell, I bought a fancy cat bed, a guitar case, a Kermit The Frog plush, a set of alien refrigerator magnets, a youth baseball glove, a Microsoft keyboard, and two pink midcentury hand towels. I also paid for my mother to buy a creamer and sugar and maybe something else. And I don't mean to brag, (I totally do!) but everything has been photographed and listed. Otherwise I'm just a hoarder.

The total was $20.65. 

My neighbor is lending me a black light flashlight so I can face my fears and investigate whether my cat has been urinating anywhere besides the new couch. I live in fear right now, but it's better to not bury my head in the sand. §¢¢®©ƒ¥§∞∞§¶¥†©¥¶§!!!!!

I didn't buy a Lear Jet or a vulgar gold-plated apartment in the sky.
Now your turn. What frugal things have you been up to?
Katy Wolk-Stanley    
"Use it up, wear it out, make it do or do without."