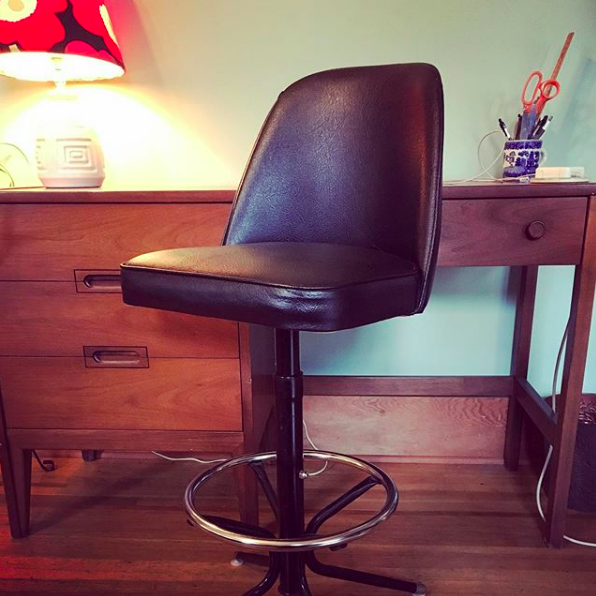 I sold a cute vintage barstool as well as that kid's Trek bike that I scrubbed up and featured in a previous blog post. Both of these sales were through Facebook Marketplace. I also sold a streaming Blu-ray player through eBay. The barstool and bike were $5 Goodwill items, and I think I forked out $20 for the Blu-ray player. I try not to buy stuff to sell unless I can clear at least $20 from the sale, although I've been known to disobey my own rules. This may sound like a lot of work, but putting together a listing takes less than five minutes, and it's something I can do while inventing new ways to split the atom watching TV in the evenings.

I just worked three days and packed my own lunches and slurped up a tremendous amount of the free mediocre coffee. I know this is far from a lightning bolt piece of advice, but the money I've saved from twenty four years of forgoing on-site hospital food would likely run into the tens of thousands of dollars. Have I ever bought lunch from the cafeteria? Sure, but it's just a couple times per year when real life has gotten in the way of my best intentions.

The hospital where I work allows you to activate your work badge as a debit card, thus deducting all on-site purchases from your paycheck. I long ago made a conscious decision to decline this program, (even when it provided a 5% discount on all purchases) as I felt it would make it way too painless to inadvertently nickel and dime my paycheck away. I'm there to make money, not spend it.

Portland has been oppressively grey and rainy over the past week, which doesn't exactly inspire me to to go and about and live my best life. However, there's an upside to cocooning indoors, which is that it's hard to spend $5 here and $10 there if you're embracing the indoor life. I don't have a habit of online shopping, which means that indoor days = zero spend days. Having said this, I'll welcome the sunshine if it ever deigns to return.

I popped into The Dollar Tree to pick up shampoo, conditioner and quality surplus bread, I'm stopping at the library to return a DVD that's due as well as pick up a hold copy of Susan Orlean's The Library Book, I accepted an offer from my father to take me to lunch and I'm scheduling a time to help my mother clean her Airbnb guest cottage whose long term tenant vamoosed in the night.

I didn't buy a Lear Jet or a vulgar gold-plated apartment in the sky.
Now your turn. What frugal things have you been up to?
Katy Wolk-Stanley    
"Use it up, wear it out, make it do or do without."