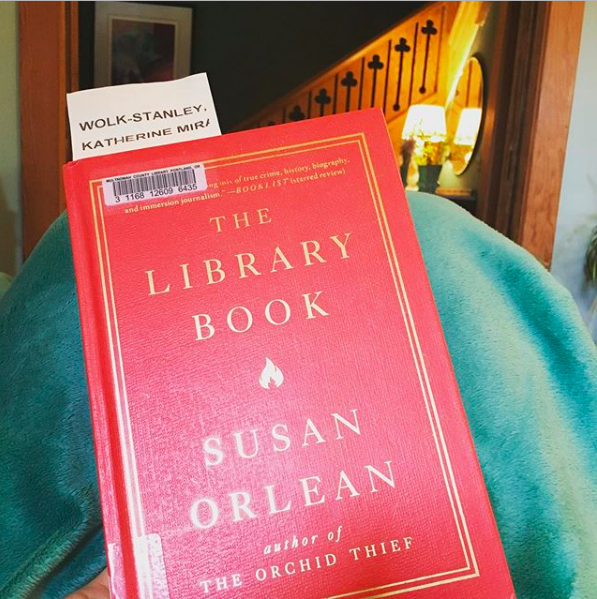 I quickly sold a vintage wrought iron plant stand from the Albany, Oregon Goodwill. (Whenever possible I stop at this Goodwill, as I've found it to be the honey hole of enjoyably priced vintage goods.) I was asking $30 but the buyer only brought twenties. However, in a manner not seen since nineteen-ought-four she asked if I'd throw in a $10 flowerpot instead of bargaining me down. I scanned my porch and quickly located a lovely glazed pot which slotted perfectly into the plant stand. Needless to say, it was garbage picked.

I also sold an antique camera and a Tommy Bahama silk shirt through eBay. Notice a pattern of what I'll sell? Exactly. I'll sell anythang.

I finished reading a library copy of Susan Orlean's The Library Book, which my neighbor had recommended. I LOVED THIS BOOK FROM THE TIPPY TOP OF ITS HEAD TO THE VERY BOTTOM OF ITS WIGGLY LITTLE TOES!

Arson. Intrigue. Kooky characters. Books! Books! Books!

All for the low price of a library card.

I started refinishing a midcentury end table that I also scored from the Albany Goodwill. Sure it sported a number of water marks on the top surface, but since it was priced at just $7.99 I figured it would be a fun and relatively easy project. I already own the supplies, so I took yesterday's late afternoon sunshine as an opportunity to spend an hour or so sanding it down. I'll likely finish it up this evening and throw it up for sale on Facebook Marketplace.

I arranged a date with my friend Lise, but instead of hitting up a coffee house we walked her dog and nipped into the high falutin' grocery store for free coffee samples, I mailed out both eBay sales using scavenged packaging supplies and I downloaded the new Libby library app and listened to a free audiobook.

I hosted dinner for my friend Diana who was in town checking out colleges for her son, but kept the meal simple with a burrito bar featuring Instant Pot cooked beans and whatever happened to be in my fridge. We also spent a couple hours ambling through the meticulously landscaped Lewis and Clark campus, which cost nothing and triggered wonderful memories of our own college years together.

I didn't buy a Lear Jet or a vulgar gold-plated apartment in the sky. redacted
Now your turn. What frugal things have you been up to?
Katy Wolk-Stanley    
"Use it up, wear it out, make it do or do without."