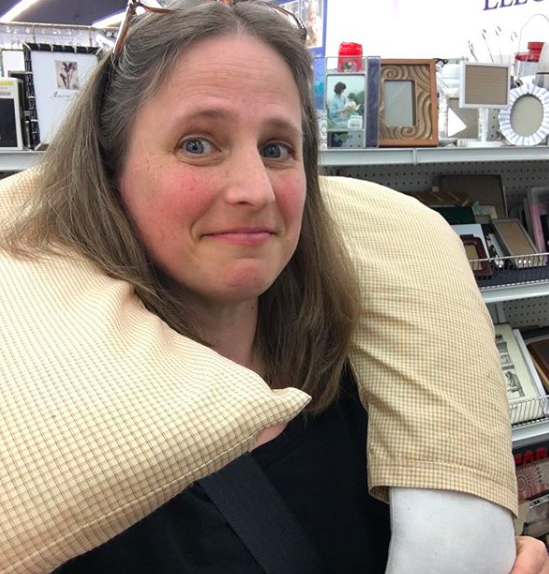 I sold a needlepoint piece that I'd had up on eBay for 103 years, as well as a thrifted Stumptown Coffee mug, (which is a local coffee chain.) I'd bought the mug as a experiment as I'd heard that people collect them, so I now know to grab up when they hit the thrift store shelves. I then picked up a classic $4.99 midcentury-style chair and a creepy little Furby, both from Goodwill. I did not buy the Lonely Lady Arm Pillow™.

I did complete refinishing the midcentury end table, which I have up for sale on Facebook Marketplace and Craigslist. I had some initial interest, but none of the I have to drive over right now buyers came through. That's okay though, as it's a great piece and I know it'll sell. My living room goes through periods of resembling a furniture showroom, but it no longer fazes us.

I worked all weekend at the hospital and enjoyed the deliciousness of a unit-wide Easter potluck that sustained me throughout the entire 12-1/2 hour shift. I brought chocolate dipped strawberries, and needless to say I drank the free so-so coffee. To be precise, I drank a Herculean amount of coffee, as continuous snacking on cookies/cheesecake/coffee cake/brownies is draining to even the most energetic RN.

I asked for and received an armload of used padded envelopes from my neighbor who orders a lot of stuff from Amazon. She's happy to set them aside to save them from the landfill, and I'm happy to source free packaging materials for my eBay sales. I spied another neighbor tucking envelopes into her trash can and told her I could reuse them. We then chatted for a bit and she ran into the house to grab a book for me to return as I was on my way to the library.

Building community within a neighborhood can be as simple as returning one another's library books and sharing resources.

I turned off the heat as the sun miraculously emerged from behind her cloudy fortress. Of course, it was but a few hours of respite from the rain, but it still gave me hope that the sun will once again grace Oregon with her warm and loving embrace.

I didn't buy a Lear Jet or a vulgar gold-plated apartment in the sky.
Now your turn. What frugal things have you been up to?
Katy Wolk-Stanley    
"Use it up, wear it out, make it do or do without."