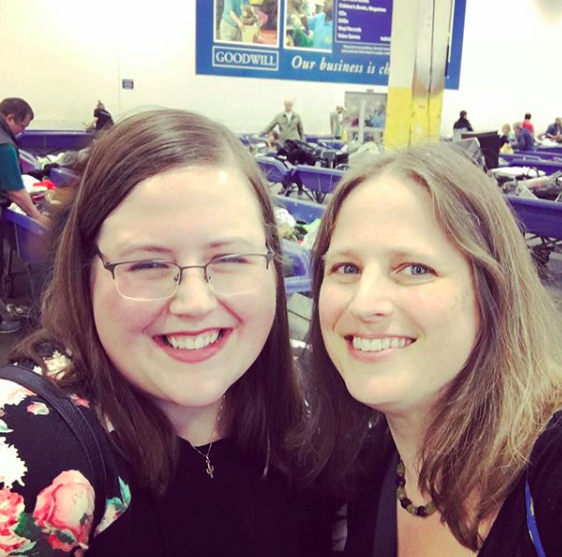 I sold a few things on eBay including a handmade cribbage board, a credit card reader, a vintage style clock and the Furby that I picked up last week. I also sold a pair of Danskos and a cat bed through Facebook Marketplace.

I picked up a few things to sell including a Fiestaware deviled egg dish, a vintage barkcloth curtain panel, some zippered banking pouches and an eight-year-old Starbucks travel mug.

I met up with Sarah from Go Budget Girl, who was in Portland for a work conference. Together we hit up the main pay-by-the-pound Goodwill Outlet, where she filmed me for her YouTube channel. I really enjoyed our time together and look forward to see how she edits the tremendous amount of footage into a coherent video. Not to give away too many spoilers, but she did concoct a goofy game show for me!

My friend Lise and I spent a few hours "parallel playing" at a local non-profit community space/coffee shop. She treated me to a drip coffee and we both worked on our laptops. She works from home so it can hard to justify social gatherings, but we're both disciplined about staying on task. We chat during the drive, plus a few minutes here and there. Plus there's the accountability of having a friend to keep us on task. A perfect solution for people who work from home and can feel isolated.

I stopped into the Dollar Tree store for bread, and although they didn't have any of the dense multi-grain loaves that I prefer, I did pick up a couple sleeves of bagels and English muffins, I wrote up a Clark Howard article on how to price garage sale items, I made a large pot of super cheap red lentil soup and I accepted a loaf of homemade bread from my father.

I didn't buy a Lear Jet or a vulgar gold-plated apartment in the sky.
Now your turn. What frugal things have you been up to?
Katy Wolk-Stanley    
"Use it up, wear it out, make it do or do without."