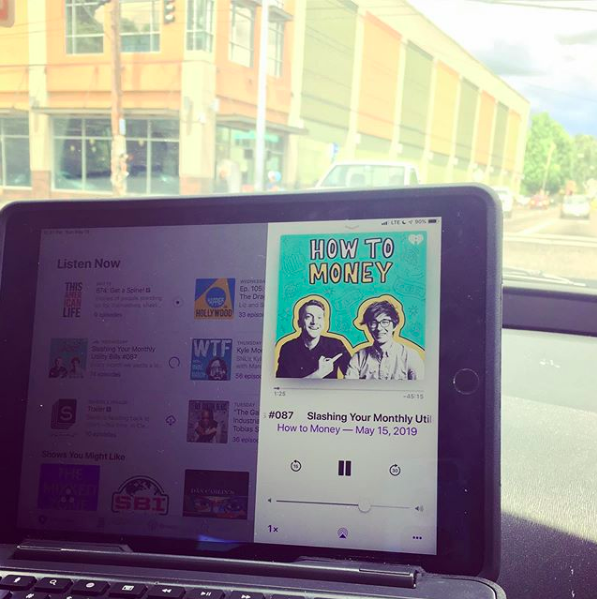 I sold the vintage train case that I'd picked up at Goodwill awhile back, as well as a cute butter dish on eBay and a groovy lighting globe through a local shop. I also booked a consumer opinion panel that pays $100 for two evening hours that likely would have been spent on the couch mindlessly watching Netflix. I also won a $50 gift certificate to a local restaurant, which I consider to be pretty damned exciting!

I tuck all this extra money into a savings account.

My younger son recently celebrated his 21st birthday, so my husband and I drove down to Eugene to take him out for dinner. He didn't want dessert, which saved us the anticipated cost of treating him to Sweet Life Patisserie.

Our gift was a ticket to the upcoming Mastadon concert. Choosing an experiential gift rather than a THING can feel off kilter, but my son needs zero physical items and genuinely loves live music.

My husband also had a birthday this week, although we haven't celebrated it yet since he had to work that night. However, I did buy him a big chunk of his favorite dessert, which is the banana cake from New Seasons. I could have made one from scratch, but the two of us do not need an entire cake for the two of us. I'll plan out a Birthday Day of Adventures for later in the week when his schedule opens up. We no longer give gifts to one another and instead plan out signature adventure days.

Studies have shown that experiences make us happier than stuff, and I wholeheartedly agree!

I read one of my 75¢ used library books, ("The Age of Light" by Whitney Sharer) I joined a free online health program through my health insurance that'll give me a free Fitbit, (you can already guess that my plan is to sell it!) I renewed my library books, I sewed a button back onto my jacket, my husband and I caught up on How To Money podcasts during a four hour drive and I'm stubbornly keeping the heat off despite the house clocking in at a chilly 63°.

I didn't buy a Lear Jet or a vulgar gold-plated apartment in the sky.
Now your turn. What frugal things have you been up to?
Katy Wolk-Stanley    
"Use it up, wear it out, make it do or do without."