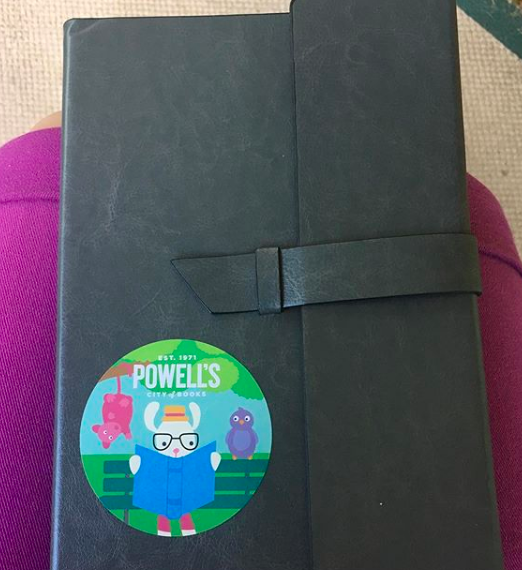 I sold a few things including a desk that I got for free, some earrings, (again, free) a Fiestaware plate, an Arthur CD-Rom I plucked from a Seattle free pile, a pair of Keen sandals and some books at Powell's bookstore.

I went to a neighborhood association's garage sale day on Saturday, but deliberately went at the end of the day when people stick "free" signs on any unsold stuff.

I brought home:
– A desk, which I immediately sold for $20.
– Two boxes of books which garnered me $21.50 in store credit at Powell's bookstore.
– A $349 Rejuvenation Lighting porch light which I've listed for sale on Craigslist, Facebook Marketplace and Next Door. (Gotta cast a wide net!) I'd install it on my own home, but I already have a gorgeous Rejuvenation porch light that I bought years ago from their seconds department.
– New (to me) cute pillows for my porch furniture.
– A bunch of random earrings.
– A stack of high end Art magazines, which I've listed on eBay.
– A bunch of miscellaneous stuff including an ornate beaded purse, framed art, a pretty beaded barrette, a small vintage Ironstone flowerpot, a dress, a pair of jeans, a Pendleton wool skirt, jeans for my daughter, three blank notebooks, an "It's Always Sunny in Philadelphia" DVD and a small decorative barrel and some other stuff that slipped my mind.

I transplanted rooted spider plant babies into the free vintage flowerpot that I picked up on Saturday. I'll give it to my friend Sue as a house warming gift.

I redeemed two get-2-free-tickets-with-gasoline-purchase vouchers for an upcoming Thorn's women's soccer game, I stuck a free Powell's sticker over a free notebook's distasteful Well's Fargo logo, I'm re-reading a library copy of Cait Flanders' The Year of Less, I arranged multiple free USPS pickups to avoid driving to the post office, I hung laundry on the clothesline and I binge watched the first season of Killing Eve through my generous friend's Hulu account.

I didn't buy a Lear Jet or a vulgar gold-plated apartment in the sky.
Now your turn. What frugal things have you been up to?
Katy Wolk-Stanley    
"Use it up, wear it out, make it do or do without."