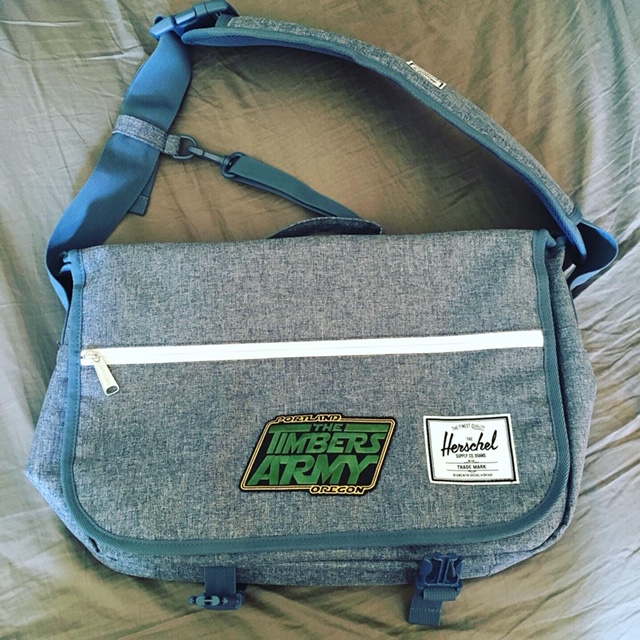 My eBay woke up over the past few days, and I sold a number of things including an antique bronze griffin for $150, a $60 electric typewriter, a $21.50 mug, a $30 barkcloth curtain panel and a $15 diploma case. I also listed a few more items to keep my inventory fresh. I'll be hitting up some neighborhood garage sales this weekend and hopefully keep up the momentum.

I bought a brand new Herschel "Pop Quiz" messenger bag at Goodwill for just $6.99, as it was machine embroidered with a company logo. (They sell for $89.99 new!) Luckily, I enjoy a challenge, so it was no big deal to sew one of my husband's soccer related patches over it and present it as a birthday gift. He'd been expressing interest in a new laptop bag for awhile, so this was a kiss of kismet.

Click HERE to view the baggy goodness.

Although my husband's birthday was last week, we didn't have time to celebrate with a Birthday Day of Adventures until a few days ago.

Here's what we did:

– Ate brunch at Pine State Biscuits, which is one of his favorite spots. There were no discounts involved, but nothing on the menu is over $12.50.
– Stopped into Goodwill to buy movie candy, as I had a gift card. (I also bought a cute vintage suitcase to sell.)
– Leisurely coffees at a so-so café. My plan had been to use my husband's  free birthday drink at Starbucks, but we somehow let it expire. NOOO!!!!!!
– A 2 P.M. showing of the movie "Us," which set us back $2 apiece. Such a wonderfully creepy movie! (2-for-1 tickets on Tuesday, bay-bee!)
– Dinner at a local Japanese steakhouse. This may not sound frugal, but since I won a $50 gift certificate last week, our bill was very reasonable. Especially since they sent a text offering free sake a couple hours beforehand. Our daughter joined us for this meal.

My husband was extremely pleased with the attention, so I floated the idea that we should do these "adventure days" every month or so. Dedicating an entire day to fun activities and delicious food is too enjoyable to ration out in a miserly fashion.

My husband gifted me with a big bag of free-from-work bubble wrap, as did my friend Lise, I returned a $12.99 item to Goodwill as it wasn't what I thought it was, (they have a great return policy) I continued reading a library book and I schlepped over to Ikea to write without home distractions as well as to enjoy their free coffee.

I didn't buy a Lear Jet or a vulgar gold-plated apartment in the sky.
Now your turn. What frugal things have you been up to?
Katy Wolk-Stanley    
"Use it up, wear it out, make it do or do without."