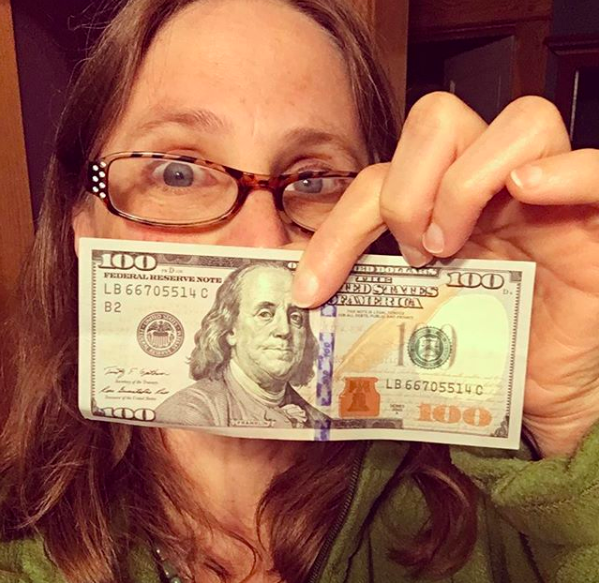 I attended that two-hour consumer opinion panel which earned me an adorable little hundred dollar bill, (for your own area, I suggest doing an internet search for "paid research + your city" to find similar opportunities.) I picked up a $5 intense groovy glass lighting shade and took it immediately to a local shop and was handed $15, I sold some vintage L'eggs pantyhose on eBay for $10 and I listed a few more items on eBay.

I met with the buyer for a high end decor chain to try and sell an enormous antique mirror that I picked up at Goodwil for $15. He didn't buy it, but he and I had a long chatty conversation about what they do buy, as well as where else I could sell the mirror. I ended up getting $75 in store credit from a different shop, which wouldn't normally be my first choice, but they create their own midcentury-style fiberglass lampshades that I've always coveted.

Coming soon . . . a statement piece lampshade!

I bought gas from a 76 station, as I saw that they were once again running a promotion to earn two tickets to Thorns women's major league soccer games with each fill up. This promotion ran a few years ago as well, and I spent the summer earning and then selling soccer tickets which earned me a tidy profit. It was a terrific little grift opportunity, as I sold the tickets for less than the box office price, which was great deal for both the buyers and myself.

I took advantage of a single nice day of weather to wash a thrifted Pendleton wool blanket to ready it for resale. The Pendleton website instructs that "dry cleaning is the best way to maintain your blanket," but I used cold water and ever so gently swished it in the bathtub and then hung it to dry which seems to have worked well.

My friend Lise and I walked to the library to return books and I picked up a Lucky Day copy of Bullshit Jobs, by David Graeber, my husband rescued nice snap-top glass leftover containers from his work refrigerator that were going into the trash, I sewed a button back onto my coat and I picked up another free bag of bubble wrap from a local shop.

I didn't buy a Lear Jet or a vulgar gold-plated apartment in the sky.
Now your turn. What frugal things have you been up to?
Katy Wolk-Stanley    
"Use it up, wear it out, make it do or do without."