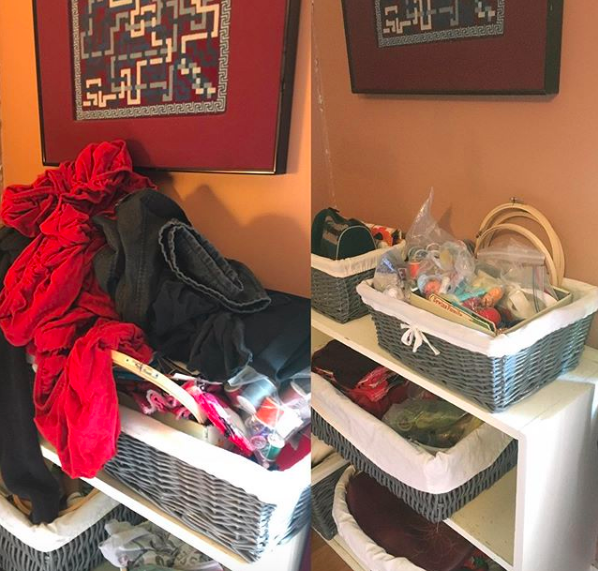 I sold a few more things on eBay including a vintage frame, a stack of older art magazines from last weekend's garage sale freebie haul, a wifi enabled scale I got for free and an unopened pair of Rosetta Stone earphones that I picked up at Goodwill.

I finally met the requirements for a health promotion program I'm doing through my insurance and earned a free FitBit. (You already know that my plan is to sell it.) The scale was also through this program.

"You want to send me some free stuff?"

I received a robo-call from Fred Meyer (Kroger) about a recall on frozen mixed berries that my husband had bought. The instructions were to dispose of the berries and bring the packaging back to to store for a refund. I was stopping in for eggs and milk anyway, so I made sure to swing by customer service for the refund. $4 back into our pockets, and hopefully no Hepatitis A.

My bedroom has a tendency to get very dusty, which triggers my asthma on a regular basis. The cats are already banned from the room, which helps some, but hasn't eliminated the issue. So this week I've spent a number of hours decluttering the room, organizing the closet, mountaineering the mending pile and then sweeping, vacuuming and wiping everything down.

I'm left with a satisfyingly large bin of Goodwill donations as well as stack of old Mary Engelbreit magazines which got listed on eBay.

The air feels cleaner and the bedroom looks much better. Without spending a dime.

I used Powell's credit to pick up the Ursula Leguin's Catwings series for a friend's baby shower, I nabbed a gallon of 50%-off milk that doesn't expire until June 23rd, (woo-hoo!) I listened to a Marian Keyes audiobook through the free Libby app, I reread a library copy of Cait Flanders' The Year of Less and I'm heading out with my husband to stuff ourselves with 2-for-1 pizzas from Mod Pizza, (they sent an e-coupon through their app) and then enjoy 2-for-1 admission to see Spirited Away at a second-run theater which brings the price down to $2 apiece.

I didn't buy a Lear Jet or a vulgar gold-plated apartment in the sky.
Now your turn. What frugal things have you been up to?
Katy Wolk-Stanley    
"Use it up, wear it out, make it do or do without."