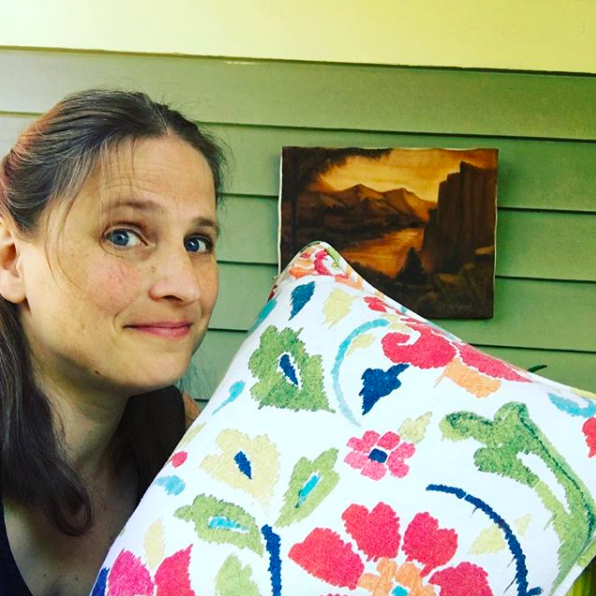 I sold a few things through eBay including a fancy Kermit The Frog stuffed animal that I picked up at the Goodwill Outlet (they sell by the pound, so lightweight items are crazy bargains!) as well as a pair of like-new plastic Birkenstocks.

The Kermit had been sitting on eBay for at least six months, which made it a satisfying sale. It's exciting when things sell immediately after being listed, but it's more common for my inventory to sell months after languishing on eBay. It validates that it's a perfectly fine strategy to practice the art of patience and wait for the perfect buyer to come along. Essentially — list it and forget it.

I unzipped the covers from three matching outdoor throw pillows that I snagged from one of last week's garage sale freebie pile and indulged them a overnight soak in my trusty Dollar Tree oxy-cleaner. They're now bright and clean and cheering up the front porch.

I then laid the demoted sun faded pillows on the corner for the taking. They quickly vanished so I can only assume they've set out on a new adventure.

I had an annoyingly long commute to and from a scheduled doctor's appointment yesterday, but kept my sanity by listening to free podcasts including How To Money, Before Breakfast and Scavenger Life.

On the surface these three podcasts may not seem to have anything in common, but together they dovetail to hit my current main interests which are personal finance, reselling thrifted/found items and intentionality. So instead of finding myself frazzled from the drive, I ended up focused and ready to hit the day running.

My son took his last spring term final, which means he'll be home within the next few days. No, let me reiterate that . . . he and his overwhelming amount of stuff will be coming home within the next few days. An entire bedroom/kitchen/bathroom's worth of stuff. Oy vey!

I ventured into his fully outfitted bedroom last night and made a plan to sell a pretty but superfluous Bombay Company desk, as he'll be heading home with his preferred desk. This won't fix the too much stuff issue, but my 21-year-old son is extremely organized and can do his own decluttering.

We save money by signing 10-month leases on his apartment as he comes home for summers. So, yeah . . . schlepping his stuff to and from his college apartment is a less than ideal.

Extreme frugality can be a pain in tuchus, and this is a prime example of how making sacrifices in the here and now supports big picture financial goals.

I didn't buy a Lear Jet or a vulgar gold-plated apartment in the sky.
Now your turn. What frugal things have you been up to?
Katy Wolk-Stanley    
"Use it up, wear it out, make it do or do without."