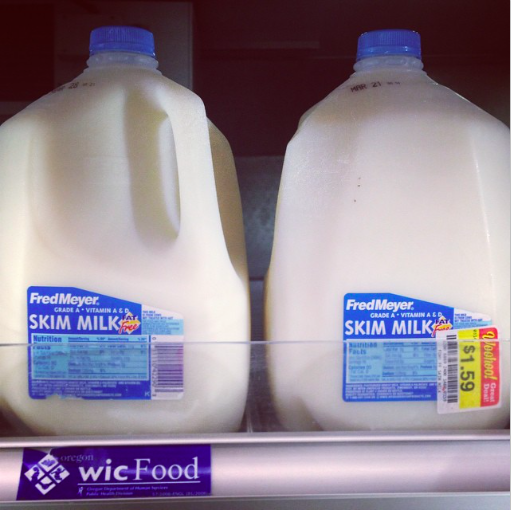 I stopped into Fred Meyer on my way home from dropping my son at school today. I bought the above gallon of milk which doesn't even expire until March 21st, as well as two 2-lb loaves of Tillamook cheese for $5.99 apiece. I'll make a couple more cheese runs this week, as the coupon limit is to only buy two at a time. I'm 100% brand loyal to Tillamook, which is how you can tell I'm a native Oregonian.
I had to drive my son to a far flung suburb for a birthday party yesterday. Instead of simply driving home, I set my phone's GPS for the nearest Goodwill and indulged in a quiet half hour or so of shopping. I ended up buying a brand new Land's End long sleeve T-shirt for $3.49, which I paid for using a Goodwill gift card. I ruthlessly decluttered my clothing recently, and was left with not much at all. I actually need a few more items to fill out my wardrobe.
I'm setting up a blog giveaway for Gretchen Rubin's newest book, Better Than Before: Mastering The Habits of Our Everyday Lives. I'll be receiving a review copy, which will save me money as I have a Compact (buy nothing new) exception for books written by friends. I've been looking forward to reading this book, as my self discipline leaves much to be desired. Plus, Gretchen Rubin has a gift when it comes to disseminating dry information in a way that resonates with the masses.
My husband and I have been recent recipients of some terrific free stuff. I found two ponytail holders plus a stretchy headband on the turf at my son's soccer game yesterday, while my husband was given an elite club seat ticket for the upcoming NCAA basketball tournament. (The ticket includes free food and beer.) Can you tell that I thrill more easily than my husband does? What can I say, I'm a cheap date!
I'm eating bulk purchased oatmeal for breakfast, keeping the furnace off as much as possible, cleaning two of my mother's guest cottages this week, convincing my husband to sell his dust collecting drum set, doing our taxes using Turbo Tax, washing our hands using a foaming hand soap pump dispenser that I refill using just a few squirts of liquid soap plus water, planning meals based on half-priced chicken and noting the blue skies and thinking it would be a perfect day to dry sheets on the clothesline.
Now your turn. What frugal things have you been up to? 
Katy Wolk-Stanley
"Use it up, wear it out, make it do or do without."