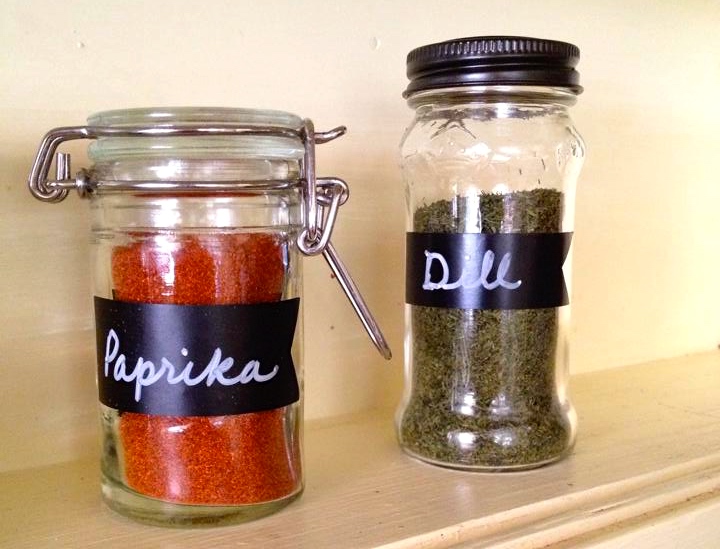 Remember my new spice labels that I shared the other day? Well my husband noticed them, and asked if I'd made them from electrical tape. It was a huge ah-hah moment, because I'd noticed that the label stickers had been stretchy like electrical tape, although at the time I didn't think twice about it. Of course, I had to try and replicate the labels using lowly, cheap (and on hand) electrical tape. The dimensions were different, but essentially the final product looked exactly the same. (The above paprika is a store bought label, and the dill label is from electric tape.)
My sixteen-year-old son is signed up to take a $200 driver's education class at his high school, although the class itself is through our local community college. So when my neighbor and I were going page by page through our Chinook books, the coupon for "$10-off any community college class" caught my eye. I called the college up and asked if the driving class qualified, and indeed it did! Spending $190 instead of $200 may not seem like tremendous savings to others, but I'll take any savings that I can get!
My husband and I have been keeping an eye out for a used car since our Subaru Outback was totaled in November. We've been doing okay with the single car, but it was never a long term plan. I'd given my information to our mechanic, asking her to be on the lookout for anyone selling a great compact car. She'd already sent one woman our way, but the car was too compact. (Safety concerns.) So when she called me again about a woman selling her 2007 Toyota Prius, we jumped. My husband and I researched the car, talked to the mechanic, as well as a few friends who essentially own the same car. We went ahead and test drove it the other day and decided that we'd finally found our second car. The woman selling it needs to find another car to buy before she can hand it over, but that's okay since the price is around $1,000 more than we have set aside, and we want to pay cash. A perfect opportunity to sell some household items to both raise money and rid our home of a few extra things.
I try to keep my husband's work lunch items on hand, but I'd somehow overestimated how much deli meat I'd stashed in the freezer. This miscalculation meant a pound of $10.99/lb roast turkey came home with us from the grocery store. So first thing the next morning I swung by The Grocery Outlet and stocked up on $3/lb sliced roast chicken for sandwiches. Add in that I used a $3-off-$25 coupon and we're now set for a month or so of frugal work lunches.
Daily frugal things such as wearing clothes multiple times between washes, sharing garbage service with our next door neighbors, making sure to not be hungry when heading out the door, mending my son's favorite pajama shirt, cutting the top off the toothpaste tube, staying away from impulse purchases, batching errands, drinking water for thirst, using my credit union's app to deposit checks instead of driving, making pizza from scratch, listening to digital library audiobooks and multiple other tiny things.
Now your turn. What frugal things have you been up to? 
Katy Wolk-Stanley
"Use it up, wear it out, make it do or do without."