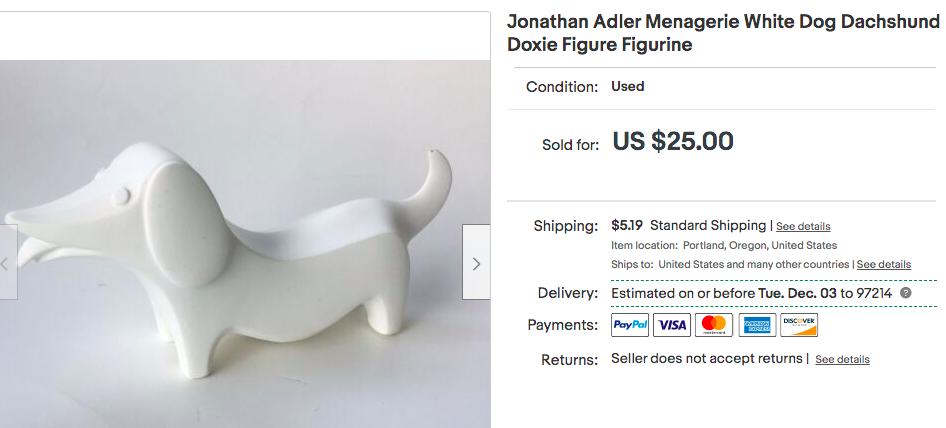 I didn't sell much this week, although it makes sense as I didn't do any thrifting. (Which translates to stale "merchandise.") However, I did sell a Jonathan Adler dachshund figurine, a pair of Nerf bandanas, a vintage horror movie pin, an American Girl doll, some vintage wooden drawer knobs and a small wooden table that I'd painted awhile back.

Supposedly someone is coming by this afternoon for a sewing table and someone tomorrow for some Danskos. However, I know well enough to not count my chickens before they hatch.

I braved Sunday's grocery mayhem and drove to Winco to buy the supplies for Thursday's Thanksgiving feast. I was worried that the store would be pure hell, but was pleasantly surprised that it was only the normal amount of weekend busy. I saw that you could get a free turkey with a $100 purchase, so I stocked up on a few non-perishable items such as cat litter and rice. However I was still $7 shy of the $100 mark, so I grabbed two loaves of $5.47 gluten-free bread to reach my goal.

So expensive, yet the purchases allowed me to get a free turkey.

For those of you who have access to a Winco, I strongly encourage you to check them out. Not only are they employee owned, (so not prioritizing shareholders over their own employees!) but their groceries are insanely inexpensive. Add in their huge bulk section and they really are the best.

I asked for working PS3 controllers on my Buy Nothing Group as we were down to a single functional one. A neighbor gifted us two, which is great as my house is about to full of young 'uns for the Thanksgiving break. (A former Japanese exchange student will be spending the week with us.) It's especially generous as one of the controllers was still in its original packaging!

Let the games begin!

My daughter's girlfriend gave me a couple boxes of tulips and daffodils bulbs that her employee was otherwise tossing, (I think I'll try doing forced bulbs for holiday gifts) I helped myself to an armload of my father's firewood so we can use the fireplace on Thanksgiving, (thanks, dad!) I got together with a friend and we ended up going for a longish walk to the credit union, my husband took apart and repaired our dining room table, I washed and scrubbed our mildewy shower curtain liner instead of replacing it and I RSVPd "yes" to a free steak dinner, even though I'll have to sit through a hard sell spiel on predatory retirement products. My son's next tuition payment in looming and I am in budget-lockdown mode.

I didn't buy a Lear Jet or a vulgar gold-plated apartment in the sky.
Now your turn. What frugal things have you been up to?
Katy Wolk-Stanley    
"Use it up, wear it out, make it do or do without."
Click HERE to follow The Non-Consumer Advocate on Twitter.
Click HERE to follow The Non-Consumer Advocate on Instagram.
Click HERE to join The Non-Consumer Advocate Facebook group.
Click HERE to follow The Non-Consumer Advocate on Pinterest.
Disclosure: The eBay link is an affiliate link, which means that I earn a small percentage from any purchases you make through eBay within a few days of clicking over. This costs nothing extra to you.