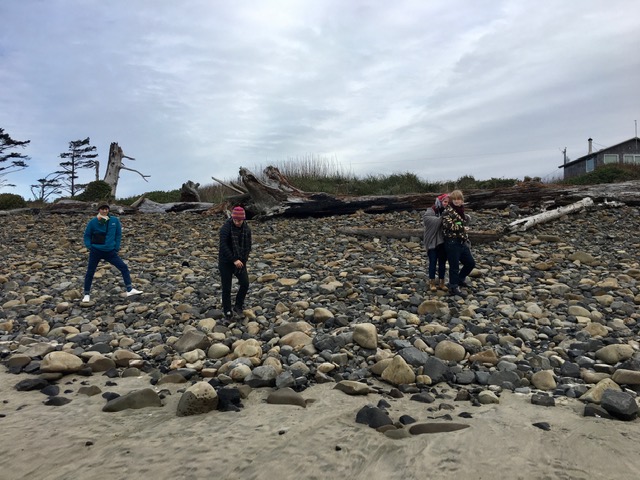 I had a busy, busy week as I hosted Thanksgiving for everyone and cooked the entire meal from scratch. (Okay, I just lied. I called my mother on Wednesday and begged asked politely if she could bring rolls.) Add in that we invited a former Japanese exchange student to spend his fall break with us, and I can't recall a spare minute over the past week.

The exchange student was someone that we'd hosted 4-1/2 years ago, and had already experienced my greatest hits tour of Portland and the surrounding areas, (i.e., cool, but mostly free stuff) so I had to branch out. We ended up planning a freezing cold Oregon coast adventure day, which included my son, the exchange student, my daughter and her girlfriend. I treated everyone to meals and activities, (a Mexican food cart lunch, beach time, a Goodwill shopping spree, the Tillamook Cheese Factory tour, fun at the Seaside arcade and dinner at the iconic Camp 18 restaurant on the way home.) and have to say that it was a day well spent.

Yes, I spent a generous amount of money, but I'm chalking it up to experiences over stuff and support of the Portland-Sapporo Sister City Association and positive international relations.

Scrimping and saving on the unimportant stuff so that the money is available when meaningful spending opportunities arise.

I sold a few things here and there over the past week, most of which were on Black Friday. This included a pair of new-in-package Ikea curtains, a porcelain pie server, an Otter phone case and a pair of distressed drawer pulls.

My favorite thing is that the phone case and drawer pulls were sourced from free boxes, so I was able to put what others may have tossed into the hands of people looking for these specific items. Plus, I made a couple of bucks in the process.

I baked up a neighbor's leftover uncut Halloween pumpkin for all my Thanksgiving pies. I know that a lot of people think that standard Halloween pumpkins aren't edible, but they absolutely are!

It's as simple as:

•Cut the pumpkin into big chunks.
•Scrape out the seeds.
•Place on a baking sheet and bake in a 350° oven until the meat is soft.
•Scoop the meat from the tough skin. (Compost the skin.)
•Puree in a food processor or mixer until smooth.

Each pumpkin will provide enough puree for 4-5 pies, and any excess can be frozen until the thought of pumpkin pie is appealing again.

Better than Libby's.

I borrowed an out of town neighbor's silverware to provide for our 12 Thanksgiving guests, I didn't buy anything on Black Friday, (okay, this is another lie. I picked up bananas and coffee at Trader Joe's) and I'm having a hard time coming up with any other "frugal things," as it was an unapologetically pricey week.

I didn't buy a Lear Jet or a vulgar gold-plated apartment in the sky.
Now your turn. What frugal things have you been up to?
Katy Wolk-Stanley    
"Use it up, wear it out, make it do or do without."