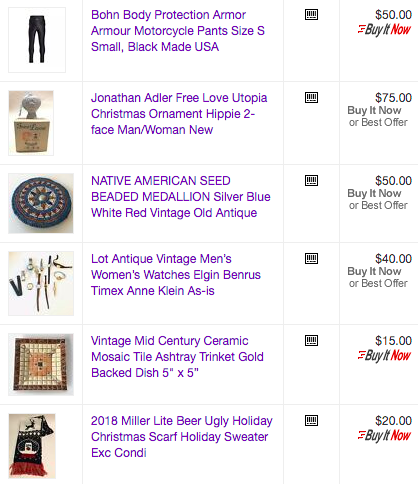 eBay sales have been coming in at a good clip, which is welcome since December is always a huge clusterhump of gifting, winter term tuition and miscellaneous add ons like nursing license renewal, car registration and the inevitable financial nonsense.

Some items were things I'd recently picked up, while others had been languishing in my inventory for ages. It can be frustrating to have shelves of stuff that elicits the, "crap, why did I ever think this would sell?" vibe, but at least half of sales is usually stuff listed at least six months ago.

Each time I list something I'm doing a favor for "Future Katy." Gotta play the long game.

Here's some of what sold:

Hopefully this trend will continue through the month as mama needs a brand new bag more college tuition money.

I dragged my mother to a financial information seminar, as I'd received a flyer in the mail and it included a free dinner. I normally would have chucked it into the recycling bin, but I was curious how my love of free food weighed against the horror of a predatory financial seminar.

Unfortunately, the salesman, (who of course was selling whole life insurance) was a deeply offensive sexist pig. I will not repeat what he said, but it resulted in me loudly stating my opinion and then stomping out of the room.

My mother then drove our proud selves through Burgerville, so I ended up getting a free dinner after all. So . . . a frugal win?

I went with my friend Lise to do some writing at Ikea, as free coffee is our love language. We then hit up the pay-by-the-pound Goodwill Outlet, and although I didn't buy anything newsworthy, I did pick up a number of items that should sell on eBay. One example? The aforementioned pair of motorcycle armor pants.

I stopped at the library and picked up the first season of Mr. Robot to watch with my daughter, I gave a book of New Seasons Market coupons (they're like Whole Foods) coupons to my neighbors who shops there, I purchased nothing on Cyber Monday and am not clicking over to Amazon browsing for "deals."

I made a decision a long time ago to avoid shopping at Amazon.com as I do not respect their CEO or their treatment of lower level employees. I know that Amazon is a life saver for many people with accessibility issues, but that's not my current situation. They're the polar opposite of how I want to spend my dollars. Used whenever possible, and local if not.

I didn't buy a Lear Jet or a vulgar gold-plated apartment in the sky.
Now your turn. What frugal things have you been up to?
Katy Wolk-Stanley    
"Use it up, wear it out, make it do or do without."
Click HERE to follow The Non-Consumer Advocate on Twitter.
Click HERE to follow The Non-Consumer Advocate on Instagram.
Click HERE to join The Non-Consumer Advocate Facebook group.
Click HERE to follow The Non-Consumer Advocate on Pinterest.
Disclosure: This blog post includes an eBay affiliate link, which means that I earn a small percentage from any purchases you make within a few days of clicking over. This costs nothing extra to you.