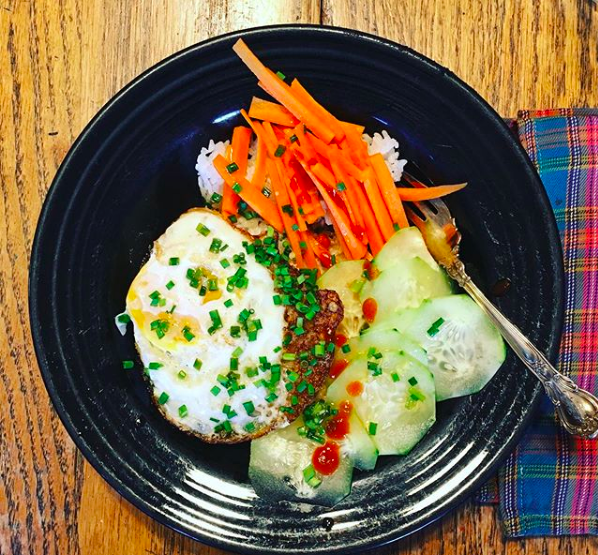 Reselling income has been down, but this makes sense as thrifting no longer exists and I have yet to optimize my "death pile." (A term used by professional resellers to describe the pile of unlisted items that plague even the best of us.) Of the things that have sold, only one item followed a logical track of what you'd think would sell during a global pandemic. (Unopened vintage West German sewing machine needles.)

• Sewing machine needles.

• A vintage pool cue.

• A studio made glazed vase.

• Two vintage tiled trivets.

• A 1970s Scrabble set.

• A lot of 2005 Shonen Jump magazines.

• A set of game pieces from a Ravensburger board game. (This was an experiment to see if I could maximize profit from a quality board game by selling the component pieces separately.)

• A gorgeous, (if a bit scratched up) silkscreen of Oregon's Mount Hood.

• A vintage metal patio chair that I grabbed a few months ago from a neighbor's free pile.

This may sound like an impressive number of sold items, but keep in mind that I haven't posted about sales since March 15th.

There've been two incidences where I've come across items at home that I didn't realize existed — so yes, I'm categorizing them as "frugal things."

1. A favorite pair of sweatpants. These lightweight sweats not only fit me perfectly, but feature deep pockets, ideal for brick-a-brack or balled up fists of rage. Sure, my husband insists that they're technically "men's pajama pants," but I don't let the existence of a single button-fly sway my opinion.

Why are they a frugal thing?

I thought I'd left them at my sister's NYC apartment during one of the five trips that I took to visit her over 2018-2019. Instead, they hid neatly folded at the back of a dresser drawer that mostly holds my husband's track pants.

In this essay I will postulate how the perfect pair of sweatpants holds more value than hard currency . . . . 

2. A bundle of bubble wrap. As an amateur eBay seller, I'm able to source all my bubble wrap needs from a local music shop and my husband's employer. That was, until the Coronavirus shut down all non essential businesses! I'm loathe to buy new packaging supplies as A) I don't want to prompt the manufacture of plastic products; and B) My sales are generally pretty low and paying for packaging cuts into my somewhat meager profits.

I sold the aforementioned pool cue, which sent me into our attic in search of a large box that I could Frankenbox into the right configuration. I grabbed a huge box that previously held a vintage electric guitar that my son ordered from Japan last summer. At the bottom of the box was a mushed up, but perfectly functional wad of bubble wrap that should get me through the next week or two of shipping.

My husband and daughter are both essential workers and I'm currently running the household full time. (Plus watching TV — so much TV!!) I've been disciplined about self-quarantining as I know that earth's only chance of stopping this pandemic is to go home and stay home, which turns out to be an extremely frugal endeavor. My husband has been tasked with all grocery shopping, as he's already being exposed to the outside world due to his job as a first responder.

Going nowhere, cooking from scratch and buying nothing beyond groceries is extreme, even for me. With next to no gas station fill ups, "grabbing a bite" while out and about and minimal impulse purchases will hopefully keep our heads above water.

Some businesses are refunding and decreasing fees, which for us includes our auto insurance and our son's university.

Specifically we'll be receiving "A 20% credit on two months of premiums in the coming weeks" from USAA, and a refund of activity and on-campus fees from the university. Plus my son dropped a PE class, as it made zero sense to take a rock climbing class from afar.

We're waiting for the inevitable moment when the Portland Timbers soccer team admits that they need to refund season ticket holders, which'll put a nice chunk of change back into our pockets. Sadness for husband, happiness for bank account.

I gave my thrifted Hydroflask to my daughter, as hers was stolen at work last week, (It's not like I'm utilizing any travel related items right now) I lent out some cream of tartar and a puzzle to a neighbor, I make endless frugal meals for my family, (including this Bibimbap!) I remember to turn off the furnace whenever I open the windows to enjoy Portland's sunny weather, (technically . . . I remember after I wake up shivering in the morning) and I sit at home, day after day.

I didn't buy a Lear Jet or a vulgar gold-plated apartment in the sky.
Now your turn. What frugal things have you been up to?
Katy Wolk-Stanley    
"Use it up, wear it out, make it do or do without."