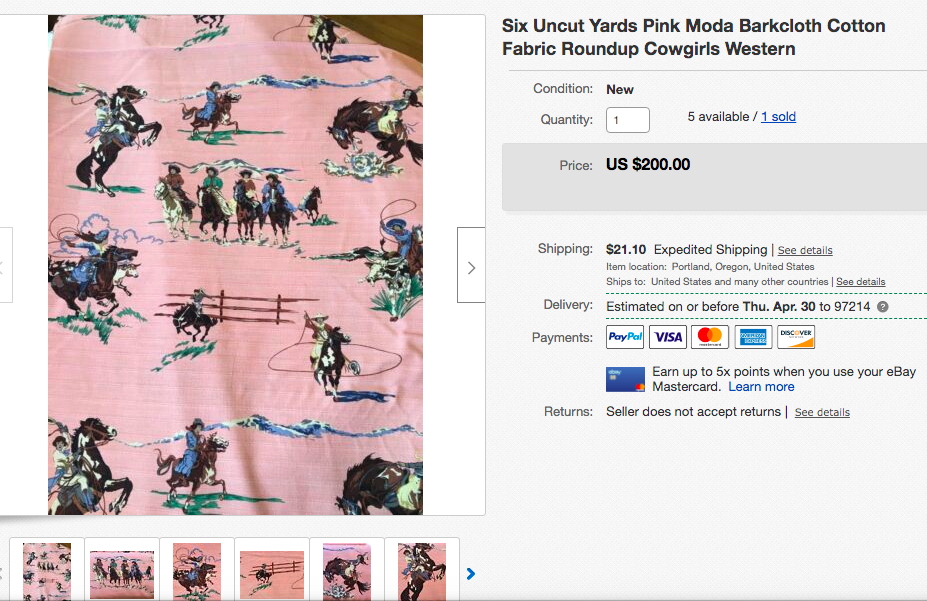 My eBay sales kicked into gear over the past few days, and I've made a couple of juicy sales including:

• A bolt of unbearably cute cowgirl-style fabric that I picked up at the Tillamook, Oregon Goodwill.

• A George Mpata painting that I bought at the Goodwill on S.E. Powell's Blvd. This was sold through eBay's Global Shipping Program and appears to be on its way to Italy.

• A new old stock 1970 latch-hook kit. I purchased this either at the Salem or Albany, Oregon Goodwill in early March on a day that I drove down to Eugene to take my son out for dinner. Ahh . . . that was a fun day.

• A piece of cute Ikea fabric from the Goodwill on S.E. 52nd Avenue, off of Woodstock Blvd.

• An antique floor lamp that I sold through Facebook Marketplace. Although I liked the lamp, (and had it in my living room for twenty-plus years) I replaced it with a $12.99 Goodwill lamp that was more streamlined/less fussy.

I grabbed my mending pile and spent an hour or so winnowing it down to just a few odd socks. I usually enjoy mending my family's clothes, but it felt more like drudgery than a enjoyable chore, which I attribute to the self-quarantine.

Before quarantine: Mending = a rationalization to watch an hour or two of luxuriously stupid TV.
Mid-quarantine: Stupid TV is no longer a luxury.

Luckily an enjoyably darned sock is just as functional as a sock darned with resentful boredom.

My husband switched our phone service over to a less expensive carrier. Still too much money, but any savings is good savings.

I lent three Star Wars Lego books to a neighbor's twin sons, we let our next door neighbors use our internet for the couple days when theirs was down, I continue to play the windows open/furnace off game on warm days, I'm showering every other day, my husband signed up for a free week of Apple TV+, (which prompted five straight hours of us watching The Morning Show!) I'm cooking entirely from scratch and I went nooooowheeeeerrrrreeee!

I didn't buy a Lear Jet or a vulgar gold-plated apartment in the sky.
Now your turn. What frugal things have you been up to?
Katy Wolk-Stanley    
"Use it up, wear it out, make it do or do without."
Click HERE to follow The Non-Consumer Advocate on Twitter.
Click HERE to follow The Non-Consumer Advocate on Instagram.
Click HERE to join The Non-Consumer Advocate Facebook group.
Click HERE to follow The Non-Consumer Advocate on Pinterest.
Disclosure: This blog post includes affiliate links, which may earn you a discount, as well as a small commission for me. This costs nothing extra to you.